The 10 Minute Crawl Challenge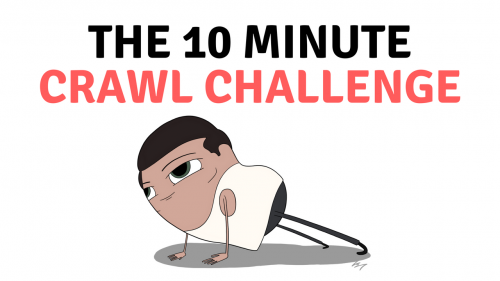 The 10 Minute Crawl Challenge comes from Tim Anderson of Original Strength, who calls it "daunting, but doable." I'll agree that it's daunting.
Crawling is low-tech, and super accessible, with virtually zero learning curve. It's also beneficial at any level of exercise–beginners, intermediate, advanced. I don't care how strong or fit you are. Show me you can crawl for ten minutes. Then we can talk.
Crawling builds strength and endurance while promoting mobility and motor control. It's hard to accomplish so many things at once, yet crawling manages to do it. It's minimalist to the extreme.
The rules for the 10 Minute Crawl Challege (at least as it pertains to this week's #IBetYouCantDoThisWorkout) are as follows:
You can use any 4-point crawl variation. Meaning so long as only your hands and feet are touching he ground, you're good. No creeping, or baby crawls. While those are fine progressions/regressions, they don't qualify for the today's challenge. Knees must remain elevated.
The goal is to crawl continuously for 10 minutes. No rest. Looooololol.
You can crawl in any direction you choose, and I would recommend doing so. Forward, backward, side to side. Switching directions give you body rest in some ways by emphasizing load in one area, over another, while keeping the system taxed as a whole.
Don't forget to use the hashtag #IBetYouCantDoThisWorkout to let everyone know how it goes, by posting either on Facebook, Youtube, or Instagram. Bonus points for filming your entire 10 minute attempt. I have been giving away some random cool prizes, like jugs of Very Good Protein, for those brave enough to attempt any of my "I Bet You Can't Do This Workout"'s.
Good luck and,
Strong ON!
– Pat
The 10 Minute Crawl Challenge
…
PS – Be sure to subscribe to my Youtube Channel to get the entire #IBetYouCantDoThisWorkout series.
PPS – You might also enjoy my free 101 Kettlebell Workouts guide.