Author's Note: I do not suspect this piece, if submitted in a contest for anything over and above a prize of fifteen dollars would take the prize. Observe, I have abstained from the use of hyperbole, and allowed the plain facts to be sufficient. No truth is stretched, and so you are left with a rather insipid tale of a boy from Wisconsin and his three favorite kettlebell swing workouts.
It started at the gym, 11am on Tuesday, when a fly entered the room. A behemoth, the size of a grapefruit, with loyalty to Satan. He buzzed about gingerly, and, under the auspices of Hell, began to do evil. He premeditated his murder, encircling me, examining me, very deliberate of his infernal quest. But I was too many for him, as he landed nigh before me, conspicuously, to rest his wicked wings, the damned fool! So I stamped my boot, caught the vermin beneath the heel, and exploded him centrifugally into chunks.  It was a neat and pretty thing to see, transferring the assassin back to the pits of Perdition where Satan, at a moment's leisure, would be around to impale him, and thus, atone him for the damnable mistake of underestimating the enterprise of God's most venerable creation, and, without contest, the one whom he sits up at night and adores.
Then, I got onto my workout without further interruption, a simple and enthusing ladder of swings and goblet squats.
Then, a snake came a slithering in, you wouldn't even believe it if I told you, twenty-five feet long, thick as a cucumber, and here to enact my life insurance policy—an agent of Christine's, I gathered. And so the snake was quick on his merry way of administering murderous destruction. He started with a brief appetizer, seven small children—a plate of meatballs, really, all very plump and delicious, but lacking sauce. I did my best to save them, but was in the middle of a set, and one mustn't get himself into the habit of allowing trifle matters to interrupt his session. When he turned to me, I ducked, and, giving thanks to God, was saved. But the pedestrian behind me, well, that is another story, and I do hope he paid his premiums and his family is well cared for, because he was struck in the throat, precipitately paralyzed, crumpled, and consumed in about all the time it takes a fellow like myself to get his shoes on and perform a set of sprints like you ain't never seen!
I got home and said a little prayer for those left in the company of Mr. Snake's glad feasting, and then got on with business: 15 minutes of this:
Then emerged a grisly shadow, dark as death; a fiend of Hell, a glutton for slaughter, an undying, inevitable bane of fierce and pitiless cruelty who's wrought ceaseless strife and the foulest violence in the farthest back reaches of Hell for the whole of 100 billion calendar years, and whoever dares look upon the grim demon in clear light invites a quick and deadly doom, a torment that never ends—a frivolous chatter, a child-like prattling, a ceaseless wagging of the gladsome, jaunty jaw. Beelzebub himself? No, even he grows tired of such banal conversation and ready to scalp himself in about ten or fifteen minutes. It was that Old Serpent, who else, but my mother-in-law (figure 2-a), and the smell of molten sulfur confirmed it. How the color fled from my face, and a deep solemnity fell upon my countenance at her arrival. I rushed to the kitchen, caught the phone book, and thumbed for Dr. Kevorkian's business line—the yearning for self-destruction is a natural accompaniment to her proximity. But there was no point, for Dr. Jack already held the envious position of being dead. What I wouldn't give! So I drove back to the gym, and clapped for the snake, and lay on the ground and made myself irresistible, as one can make himself for a snake, that is, but his glad feasting had come to a close, and he was gone. Then it began, the perpetual mill of conversation, the plant which requires no resources to sustain itself—not food, not water, not rest, not even divine inspiration—none other than an unfortunate jackass to maunder at is needed, and here she had found her supply in me.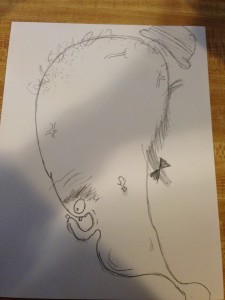 (*figure 2-a)
I took a lowly position, and sat in a joyless state ready to receive my penance. But then, a miracle! The snake! I wish I could say my heart was filled with a great grief and sorrow regarding her abrupt departure, but I'm going to make an exception, just this once, and tell the immediate truth. I delighted ecstatically in the relief of it, as would a snowman at the removal of a heat lamp. But by God if she didn't keep right on jabbering the whole way down his esophagus, and even after I handed him a napkin to dab his chin with you could still hear the eternal blatherskite working her conversation mill—something about Jeopardy coming on an hour later than usual. As for me and the snake? Well if we didn't straightaway become just the best of friends! That is, after reaching something of a mutually beneficial arrangement: He would not consume me, and, in return, I would introduce him at our next family reunion.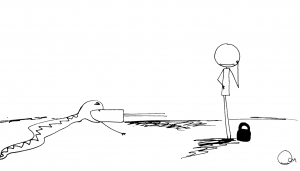 My spirits had been restored at long last, my joy was overfilled, and my contentment was now complete. So I finished with my workout with this.
PS –  I want to give you more workouts like this. Time-efficient, and deadly effective. Come try out the Inner Circle for a month, as I'm featuring my 10 all-time-favorite "time-crunched" kettlebell complex workouts in the March newsletter, along with the full 300 Swings a Day program. This program is tough, I hear it's worth it. : – )
CLICK HERE to join now ($20/month, cancel anytime).