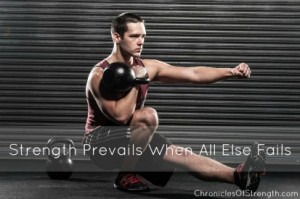 The backwardness of fitness in These States is made abundantly obvious by the vast number of people who try very hard at it, but seldomly succeed. Some time ago I was backwards myself, putting enormous emphasis in all the wrong areas, and never any effort towards the right one: strength. It took me a while to get turned around and set in the right direction, so hopefully by this post I can help you avoid some of the same follies.
Let's review 5 reasons why strength work should be prioritized.
1. Strength is the master human quality. It is the capacity which lifts all other capacities. Meaning, the stronger you are, the more cool things you can do. In other words, the more strength you have the more potential you have for endurance, metabolic capacity, power, speed, stability, and right on down the long line.
2. Heavy lifting is still the best thing you can do for fat loss. That and broccoli.
3. The stronger you are the more potential you have to put on lean muscle mass (if that's what you desire). This is glaringly evident but almost always ignored by the neophyte. If you want to put on muscle you should first focus on getting as strong as you possible can, and then focus on hypertrophy. It's pretty hard to put on muscle mass when you have the dead lift or the bench press of a Golden Girl.
4. Most people need more strength, not more conditioning. Conditioning comes quick and it goes quick; it's earned cheap and easy. Strength, on the other hand, is earned long and slow and requires considerable time investment. But strength is also kept for a long time. Trying to reach your goals, whatever they may be, by adding more high intensity conditioning is a dangerous errand, and hardly ever ends well. Get strong instead.
5. Strong fixes wrong. So much emphasis these days is put on corrective exercise (define that how you will). But so much of the time the problem is hardly anything more than the person just being too damnably weak. That's to say for the majority of people the most common and major movement dysfunction is hardly anything more than being a general creampuff. I have seen the quality of countless movement patterns improve in direct ratio to the amount of strength you add to a person—myself included.  Sometimes the best corrective exercise you can do is to LIFT HEAVY.
When all else fails, strength prevails. And when you are strong, EVERYTHING is easier. Just remember that strength is earned in inches, not miles. So be like the infantryman who gets in the trenches and makes his advances little by little, day by day.
Strong ON!
– = +
– Pat
Becoming Minimalist & The Metabolic Reset:
2 For 1 Flash Deal (Today Only)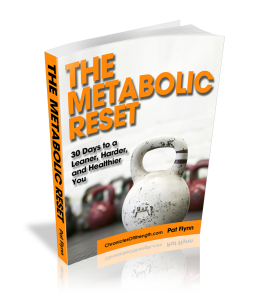 I'm in a good, hearty mood so I'm going to do a flash promotion for all you fast action takers. Here's what it is. Come try out the Inner Circle for a month and I'm going to give you The Metabolic Reset (my 30 day minimalist body transformation program) as well as full access to my Becoming Minimalist Program (my 90 day minimalist strength, conditioning, and fat loss master class).
This is good only to midnight tonight then it slips into the deep, dark, nebulous void of forever forgotten internet strength promotions.
Here's how to get instant access:
1. CLICK HERE and register for the Inner Circle ($20/month, cancel anytime)
2. After that, email me at PatFlynn@ChroniclesOfStrength.com with the subject line of "Strong ON", and I'll send everything your way.