60 Second Push Up Challenge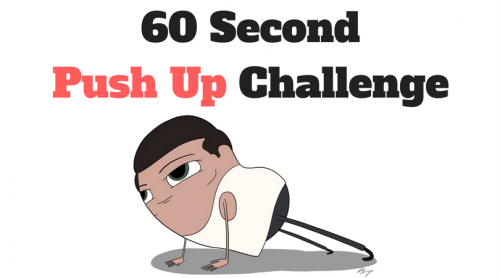 The 60 Second Push Up Challenge, like most of my #IBetYouCantDoThisWorkout challenges, is simple, but not easy. The goal is to take sixty seconds to complete ONE push up. That's 30 seconds down, 30 seconds up,  moving evenly throughout. No worming. No half-push ups. None of that.
Regarding proper push up technique, remember:
Elbows in
Back flat
Keep tight
The 60 Second Push Up Challenge can be used to improve technique and trouble areas. There is no cheating your way through a rep with this one. All weaknesses will be exposed. And that's a good thing. Because that's how we improve–by facing our deficiencies, and not avoiding them. Only when you find out where you're weak, can you then be strong.
This challenge is great as a finisher, or standalone workout-on-the-go. If selecting the former option, I recommend 1 – 3 sets. If using the latter, I'd say see if you can do five. (If you can do five, you might  be a superhero.)
Either way, expect to feel this one in the triceps tomorrow. And for all you Lactic Acid Junkies, the 60 Second Push Up Challenge is a surefire quick fix.
Finally, be sure to use the hashtag #IBetYouCantDoThisWorkout on either Facebook, Youtube, or Instagram, to let us know how you do.
60 Second Push Up Challenge
Strong ON!
– Pat