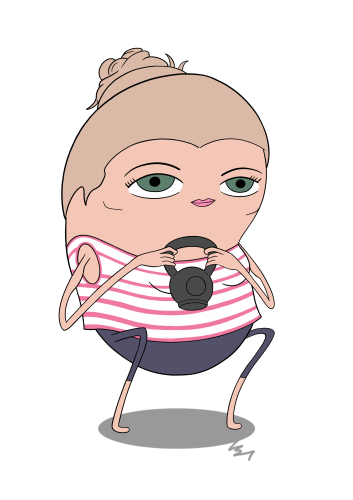 The Easter Bunny isn't real.
His existence is just a lie.
While we're at it, Santa is equally as mythical.
What a relief! You spent a good 7 years or so under the tyranny of a fallacy, matching your actions to meet the criteria of a fictional character!
But now, NOW that you know the TRUTH…You don't have to write and mail letters to the North Pole, no one is actually taking notes on your being "bad or good," and you can let go of the fear of getting coal in your stocking!
Sure, it's fun for a while, believing these lies. But then, when you finally figure it all out, the let-down is actually paired with some solace. It makes a lot more sense that your parents run Christmas…
Can you think of any similar experiences in your adult life–when you've believed something so fully that you allowed it to shape your behavior? But then, when you finally figured out that it was a lie, it opened up a whole new world for you?
Recently, when working with Aleks Salkin, I was asking him for tips on my backbend. He suggested that I allow my knees to bow inward a bit through one part of the motion. WHAT?! I can do that?! I didn't think I was allowed! Once that lie was destroyed, my backbends improve 20%!
As a coach, I spend a lot of time convincing people that many of the hurdles they face in their quest to fitness are actually imaginary. Perception, not reality.
Certainly, some of the "perceived hurdles" are well-polished excuses; they are justifications, really, as to why they are falling short of their goals.
But, sometimes, I find that people are legitimately held up due to long-believed fallacies. They are slaves to the myths and lies they've heard for years, unable to shake them.
Here are some of the most common lies I hear, perpetuated by ill-informed media sources, possibly aimed at ensuring your continued reliance on their misguidance.
[Of course, my narrative for each is intended for the general audience, not someone with a very specific performance goal.]
Your workout has to be 60 minutes. This is a classic case of perfection as the enemy of progress. Your workout can be 30 seconds. Seriously. Thirty seconds of swings will always be better than zero seconds of swings. Most workouts would probably be best kept to 45 minutes anyway. Stop looking for an hour of "free-time" and start working out with whatever time you can create for yourself. (Psst, there's a 5-minute bodyweight workout below.)
You need to eat "properly fuel" pre- and post- workout. Most people chasing general fitness do not need to think much about fueling their workouts. In fact, most people trying to lose weight would be much better off 

not

following the trend of a pre-workout shake and a recovery meal.
You need to replace electrolytes with a sports drink. Depending on your workout length and intensity, as well as your typical diet,  you likely don't need to worry about your electrolyte balance much at all. Drink water in accordance to your thirst, with a pinch of quality salt if you're worried about your electrolyte balance. (The more sweat you lose, the more likely you could stand to add a little salt.)
You need to break a sweat. Breaking a sweat is poor evidence of a good workout. You should definitely break a sweat sometimes. Other times, you should focus on practicing form and technique with heavier loads and higher reps. Sweating might be a byproduct, but it shouldn't always be your goal.
You have to push to failure. Similarly, you have to end your workout as a depleted pile of mush. Who doesn't like a dramatic conclusion to their workout? Sometimes, it's okay to collapse, heaving, and wondering if you're going to vomit. But honestly, if your goal is always utter exhaustion, you won't see progress across the indicators of fitness. You'll risk injury and poor recovery.
You can't workout two days in a row. Life is unpredictable. If you're a busy person, chances are you'll get enough "rest days" built in. Ditch the adherence to this lie, and embrace working out whenever you can.  Just be smart. Go heavy one day and light the next. Go long one day and short the next. Mix it up, and you'll be just fine.
You have to go to a gym or  have certain equipment. Every single blog post I write includes a 5-minute bodyweight workout that you can do anywhere. A kettlebell is an awesome tool, but don't let your lack of access to a gym or to equipment keep you from working out.
You don't know enough to start. Similarly, you know everything there is to know. I think these can be equally detrimental mindset traps. Start by going for a walk, gardening, riding your bike–even sitting on the floor instead of the couch! Start by trying something (a kettlebell swing, perhaps?), filming it, and sharing it with someone you trust. Start by hiring a coach! (Pat and I both coach beginners, you know.) In a lot of ways, moving is intuitive. However, just because you are a seasoned fitness junkie, don't think that you are all-knowing. Progress will evade you. Film yourself to get technique critique, go to a workshop, or otherwise open yourself up to the discomfort that comes from growth. (Like maybe try Pat's new & improved 101 Kettlebell Workouts!)
Did I miss any? Feel free to discuss below!
Whatever falsities swarm your brain, the bottom line is this: Choose Action.
Stop waiting for (or even trying to create) the perfect situation. Stop letting uncertainty overpower your will. Don't get hung up on the small stuff.
Most of us would fare far better to "just do" rather than to plan the doing.
Minutiae is of little importance to the fit and healthy Joe Shmoe who is not setting out to break records but is instead setting out to live a long, full life with a lean, strong, and functional physique.
So stop letting anything stand in your way, and just do this:
5-Minute Sweaty
Deconstructed burpee:
5 squats;
4 sprawls (the movement that brings you from a hand-planted squat position to a plank position);
3 push-ups;
2 sprawls;
1 vertical jump from the bottom of the squat.
AMRAP in 2 Minutes. Rest for 1 minute, and repeat!