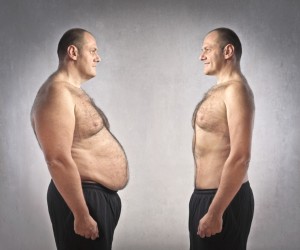 To make fat loss complex is a clichéd marketing ploy, as adding complexity to something better left simple gives it the artificial flavor of sophistication, and folks can't help but think you've come up with something new. And when you can make someone believe you have a "new" way of doing things, you have no doubt learned to suit the bait for the catch.
People cannot resist "new", because it feeds the most desirable of all delusions. The delusion that effort is not necessary, or that maybe they can get away with less of it. New and complex fat loss programs are always charming, intriguing, and wrong. If a fellow can't tell you how to lose weight effectively, simply and concisely, then he is a yahoo and not to be taken seriously.
I do not have a "new" way of doing things for you today, only what I think is the right way. I've kept it simple for you, because I respect your time, and fat loss doesn't need to be complicated. It's better if it's not.
Just remember, a formula (even the simplest) is only as useful as its application:
Heavy Strength Training (4-5 days per week) + Metabolic Conditioning (1-2 days per week) + Brisk Walking (As much as possible) = Strong, Hard, and Lean
The nutritional formula to accompany this:
Intermittent Fasting (Daily: 16 hour fast/8 hour eating window) + "Meats, leaves, and berries" = Healthy, Lean, and Vibrant Some clarifications…
Heavy Strength Training:
Low Pep + Heavy Load = Strength Training
Metabolic Conditioning:
Moderate strength efforts + elevated cardiovascular stress = Metabolic Conditioning
Brisk Walking:
Left Foot, Right Foot + Imagine Someone is Following You = Brisk Walking
Comments? Questions? Just leave a comment and we'll chat.

And Happy Thanksgiving 🙂
The Best of Chronicles of Strength 2013:
A Collection of My Choicest Works
It makes me so happy to write to you via email, blog posts, Facebook, or whatever. I love our chats, and doing what I can–all that I can, whenever I can–to help you reach your goals.Thank you for giving me that privilege.
I wish I could just give you everything for free, really I do, but as my survival, as well as my son's and Christine's, too, depends on monetary income, here's the very best i can do for you…
I ran a survey a while back, asking my readers what they wanted most for me. Surprisingly, the response was not for something new, but rather, a "best of" collection.
So as a THANK YOU, for taking the time to visit my site, and for all the support you've given me over the years, I'm offering my "Best Of" Chronicles Of Strength 2013 Bundle Package" at over 80% Off.
==> CLICK HERE to subscribe to the Inner Circle (cancel anytime) and you will get it all delivered straight to your inbox when it's released on December 1st.
But this deal ends at midnight on 4 days from now (11/30), so please do take advantage of it right away, because after that this package will be a offered only at $207.
So check it out, here's what I'm including in The Best Of Chronicles Of Strength 2013 Bundle Package:
==> The Great Destroyer Program (BRAND NEW) The Great Destroyer is my toughest program yet, built around that ever damnable workout. This is not a year-long program. This is a one-month kick in the butt to help you break through stagnation and move closer to your strength, leanness, and aesthetic goals.
==> 7 Surefire Secrets to Enjoy the Holidays Without the Weight Gain (BRAND NEW) The greatest difficulty of holidays is keeping on track with your health and fitness goals. But with these 7 strategies you can enjoy the holidays like a "normal person" while keeping the weight off and feeling good about yourself.
==> The Metabolic Reset ($34/Value) The original Metabolic Reset program, a full 30-day strength and conditioning program coupled with a full 30-day fasting and primal eating protocol is a NO BS, relentless pragmatic blueprint for physical excellence. It's tough, but it works.
==> The 9-Minute Workout ($34/Value) The 9-Minute Workout is my favorite workout. It's challenging–very challenging–but reasonable. It's something you can do often and really benefit from. it burns fat, builds capacity, and boosts muscle. And it only takes 9 minutes.
==> The Creatini (BRAND NEW) The "Creatini" is my personal health concoction, brimming with anti-oxidants and health promoting supplements. It's a low-cost, but super effective post wrokout drink you can make for yourself and on the cheap. I'll give you the recipe. It's easy, too!
==> Kettlebell Mastery Video Series ($299/Value) My kettlebell mastery video series was an online training I put on to help people master the core kettlebell movements (swing, clean, squat, press, get up, etc, etc). I originally charged $299 to gt in, but it's yours now, for FREE, when you come try out the Inner Circle for a month.
==> Any ONE Previous Issue of the Inner Circle Newsletter ($20/Value) On top of everything else, I am including any ONE previous issue of the Inner Circle newsletter of your choosing. You just  have to email me to let me know which one you want though, after you sign up, or simply tell me your goals, and I'll pick you the one I believe to be the best fit
PHEW! That's a lot of goodies…The total value of which, everything sold separately, is over $400!
But I'm going to give it all to you for just $20, my "thank you" gift to you, just for trying out the Inner Circle for a month (cancel anytime).
==> CLICK HERE to subscribe to the Inner Circle (again, cancel anytime, no obligation–but I'll say most people stick around because they really dig the content), and I'll send all this stuff your way on December first.
But again, this "thank you" offer ends in four days (expires 11/30 at midnight), so if you don't take advantage of it now, it will be too late, and this deal will be GONE FOREVER, sunken into the deep dark abyss of expired holiday promotions (gasp!).
Let me know if you have any questions! Here to help.
– Pat
PS – Already an Inner Circle member? Then you're covered. You'll get the entire Best of Chronicles of Strength Bundle Package on December 1st.