Today we visited Holy Hill, a famous and crusty old landmark in the town of Erin, Wisconsin. I was told it would "furnish a feast for my eyes and relief to my soul", as Holy Hill is a sanctuary of sorts, visited by over 300,000 persons a year. But what I would never have guessed is for all 300,000 of those people to go on the same day as me.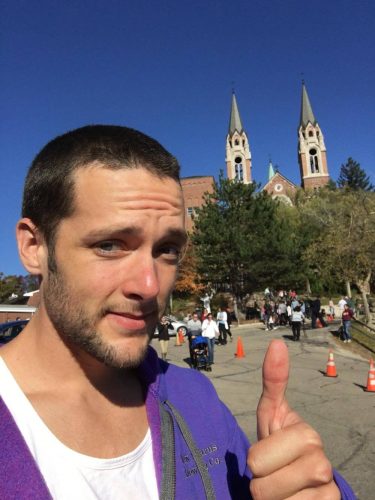 The hill was found in 1693 by some Father Marquette, but the government seized the land as governments do until 1855, because mine! After that it was "freed up." The first resident came in 1862 from Canada, because he knew what was good for him, and the church (known as the "Old Monastery) was completed in 1920, which makes it pretty old.
Our family does not go to church much but that does not make us impious or anything. I just figure let the sins build up a little before hauling them in. I do email the same way, it's called batching.
When you come in, the church stands high on the hill. It is cool to see. Three steeples stretch up and scratch the sky as the leaves are scattered in various, many colors below. I would consider it a spectacle in the realm of excitement somewhere between Chuck E. Cheese and Niagara Falls, leaning more toward Niagara Falls, so on the less exciting, but still worth it, if you happen to be in the area.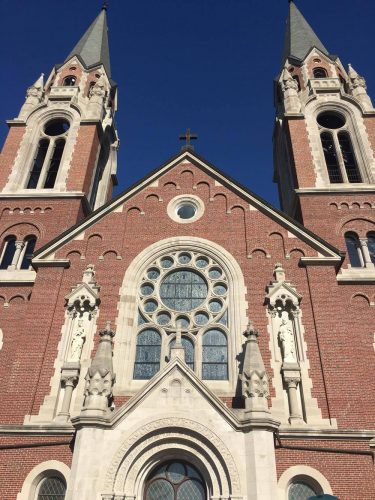 The view from the top is nice, and worth it, if you take the elevator. There are a lot of green spots and trees and sky. I could see nothing that was not interesting. No cars or stupid, silly humans. Only greenness and freshness and space. I would have taken more pictures but my camera is full and I didn't want to delete anything.
3/5.
– Pat