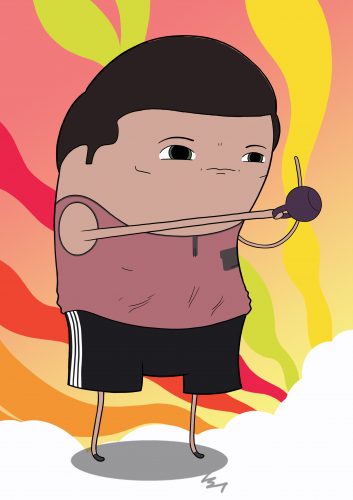 No, I don't believe kettlebells are bad for your back and I'll explain why. The kettlebell is a lifeless, and inanimate, stupid and dumb object. By itself it can do nothing and help no one. What determines whether a kettlebell is good or bad for your back is how you use it, and what the state of your back is in beforehand.
Kettlebells don't hurt your back. Wrong technique hurts your back and so does overuse. Kettlebells can strengthen your back, actually. In some ways, they may even save your back. By learning the mechanics of the hinge, you learn how to lift and lower weight in the strongest and safest way. This is what the kettlebell teaches–or not the kettlebell, but the instructor.
Moves like the swing and goblet squat bolster the muscles of the back, while bringing to life your inner core stabilizers through the management of tension and how you breathe. This has less to do with a kettlebell and more to do with the coach. Does the coach teach the principles of strength? Does the coach work a person through the proper and good and necessary progressions to ensure the safety and efficiency of every technique? If not, the client is at risk, and the coach an offensive and hazardous menace to society. If so, the client is in good hands–probably.
If you have a back injury, the kettlebell may or may not help. Only your doctor or therapist can decide on that. I will say, however, that working along side doctors and therapists, I have helped many a client get out of pain and strengthen their back with kettlebells, particularly swings. It is possible to do that, and often what a body needs. But, to be fair, there are cases where the use of loading on the low back is not what a body needs. Such is why statements about kettlebells being "good for your back" are inappropriate at best. They can be. But they can also not be.
The point is it's more about how you use the kettlebell than anything. Are you doing the right exercises? Are you doing those exercises right? Are you applying the right number of sets and reps and weight? Because even if you are doing exercises "right", you can still do them "wrong", by overdoing it. That is possible. So use your sense and intuition. If something doesn't feel right, stop. Be patient. Strength will come and so will reps, but start slow.
In conclusion, the kettlebell is not bad for your back, per se. But ignorance of technique and programming can lead to large inconveniences, whether you are using kettlebells, or not. What you must look for is a competent and caring and patient and understanding and amazing and handsome coach, like me, who employs progressions and espouses principles and harps on individuality, even in the context of a group. Yes, good coaches are *sometimes* expensive. But so is getting hurt.
Strong ON!
– Pat