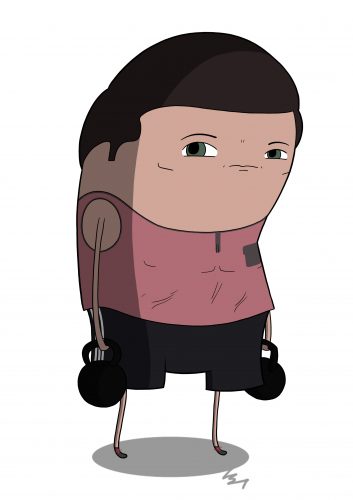 Are kettlebells better than free weights? This is a question that comes up a lot. My first response is kettlebells are free weights, but what people are really asking is how do kettlebells compare to dumbbells, or barbells. This is a fair question, and it deserves a fair answer. So let's get started.
How Do Kettlebells Compare?
The kettlebell is a tool, and my job is to help you decide for which job is the kettlebell the best tool, and for which job would you rather use a barbell, a dumbbell, or something else.
Conditioning is the "Killer App" of kettlebell training. When it comes to blasting calories, the kettlebell is hard to beat. Through complexes, combos, and chains, and even just swings and snatches, we train strength and power and endurance, all at the same time. It's amazing.
Because the kettlebell is compact, and lends to both explosive and grinding exercises, we can flow from movement to movement. For conditioning, the kettlebell is king.
But how does the kettlebell compare for strength work? Well, it's actually pretty good. Most people can develop all the strength they need with kettlebells. Most people. But higher level athletes or strength enthusiasts will get a better return from a barbell. This is true for the lower body, especially–for moves like squats and deadlifts–where the kettlebell becomes limited, because they don't go heavy enough, or if they do go heavy enough, they become too clunky and awkward.
So for strength the barbell wins out, eventually. But for people who just want to be strong, and are not high level athletes, the kettlebell is more than capable of doing the job.
The kettlebell is also useful for mobility. Windmills and goblet squats, especially. These moves can, of course, be done with dumbbells, but I like how the kettlebell rests on the forearm for windmills, get ups, presses and arm bars, allowing you to more easily access external rotation of the shoulder.
So for mobility, the kettlebell is a nice add-on and works as well as any other weight for loaded stretching. But the kettlebell shouldn't replace basic bodyweight mobility, or vestibular resets, like crawling.
The truth is a set of kettlebells can cover about all of your basic fitness needs. For minimalists, the only other thing I would add is a pull up bar. With a pull up bar you can do (get ready for it) pull ups. Also hanging leg raises, spinal distraction, etc.
So the question isn't so much are kettlebells better than free weights? The kettlebell is a free weight, and what it lacks in specificity it makes up in versatility. The kettlebell is the swiss army knife of fitness equipment, and though it may not be able to do every job as well as tools made specifically with one function, it can do just about any job exceedingly well.
Strong ON!
– Pat
PS – New to kettlebells? Or just looking for some new routines? Grab my 101 Kettlebell Workout Guide HERE.