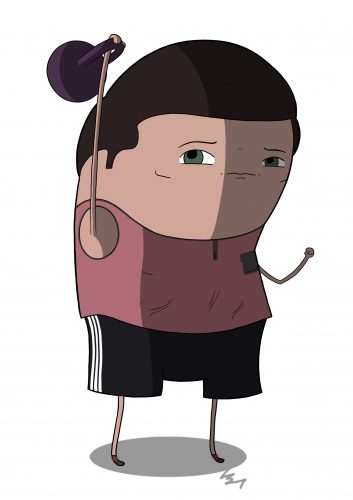 Q. Are kettlebells better than running?
A. Alright, well let's talk about it.
Some people think because I am into lifting weights that I am against running or that I think running is pointless. I don't think running is pointless, but it is sort of trendy if you are into strength training to look down on running and say mean things about it.
But what I try to do is just get people to see where running is useful or where lifting a kettlebell may be better. So the first thing I look at is well, what do you want to get out of your exercise program?
Running is useful for is making you a better runner and while kettlebells build endurance you should not expect to win a marathon on kettlebell training alone. The body is very specific and for certain kinds of activities you should prepare the body by doing the very thing which the activity requires. So where running makes the most sense is for people who's sport it is to run.
But OK except now what about burning fat and building muscle, which is better, then? This depends on the kind of running, dude.
Sprints which are often overlooked are one of the best ways to burn fat and build muscle, and which if you have ever seen a sprinter you have probably noticed how they look sort of defined, actually. Jogging on the other hand will not get you the same kind of results as sprinting has a higher metabolic effect and is more fast twitch, which is good.
Kettlebell training on the other will beat jogging in about every way for burning fat and building muscle, because the metabolic effect of resistance training is also higher and so kettlebell workouts are just better for building muscle. You can't really build muscle jogging. There isn't enough resistance.
But now what some people say is, "but what do you do for cardio?"
But what do you do for cardio, lol.
Strong ON!
– Pat
PS – If you don't like running (or even if you do) then you will probably enjoy my 101 Kettlebell Workouts eBook. It's free.
PS – You might also enjoy my Inner Circle, because Santa is coming.