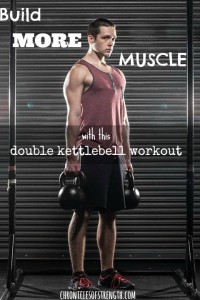 [For the Gents] Build More Muscle with This Double Kettlebell Workout
Som and I used to do this workout on the hot summer pavement, in air so thick you had to chew it or choke, and I would take comfort knowing he shared in my uneasiness.
So I got asked the other day, on Facebook, how to best put on muscle with kettlebells, and get cumbrous.
Here  my thoughts.
[For the Ladies] How to Use Strength Training for Fat Loss
I've this belief, principally, that if you want to get leaner, you need to get stronger FIRST; and that the BEST thing you can use for fat loss, is FREQUENT strength training and SOME metabolic conditioning, and then go for a brisk walk.
Now I've talked very favorably on The Modern Woman's Guide to Strength Training this week and have said straight-out that I think every woman should get it, because it uses this exact approach.
It teaches you how to best use "minimalist" strength training for fat loss, so you can hack body fat off in large chunks and put on a lean and sophisticated sort of muscle.
Well I don't recommend things here unless I know they will help you out and also meet a certain standard of being not crappy or over-priced.
Anyways, Molly emailed me at, like, 4am this morning to say she's going to give out another 16-week "advanced" training program to any lady who picks up her Modern Woman's Guide to Strength Training today.
So this makes, in all, over 64 weeks of strength, fat loss, and mobility programming—all laid out for you, zero guess work. All you have to do is follow the plan, and get awesome results.
This bonus-advanced training (and I got a chance to review it this morning) is a "smart" kind of advanced training, not a "kill yourself with stupidity" kind of advanced training.
Anyways, no hard sells here, simply I think this is something that will really help you out if you're looking for 1) a minimalist strength and fat loss program and 2) something that is entirely laid out for you so you don't have to do any figuring yourself—just follow it, and get STRONG.
[But I wouldn't wait around if you are going to get it, because the big launch discount ends this weekend]
Anyways, if this sounds like something you'd be interested, fantastic, simply CLICK HERE and you can get started right away.
[For Everybody] 1 Drill to Improve Your Squat Depth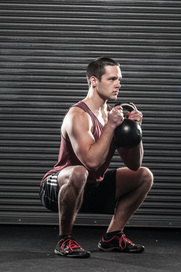 I call this the Baby Squat; Dan John calls it the heartbeat squat.
When I see Roan's squat mobility I think it's very satisfactory. He doesn't have the strength to hold it by himself, but I set him there often as I can throughout the day, and just admire it.
Almost all babies squat very satisfactory and have hips like a jellyfish. So I got to this idea that maybe we could use babies, and get to squatting very satisfactory ourselves.