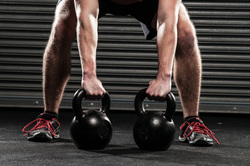 Every once in a good while something mean takes over and I find myself hankering for some ol' timey self-destruction. That is, the urge to wholly obliterate myself. To confect something describable only as heinous, twisted as a thumbscrew; and then to work that something until I feel good and satisfied—which is to say until my faculties are scattered into a frenzy and my body reduced to a mash.

Is it ever for good reason? Sometimes, yes. Most times, probably not. Don't matter though. Because sometimes we get the green light. That is, things are well oiled, and the machine is finely calibrated for a richly deserved ass kicking.

When timed properly, the proverbial smack down is quite often to the good. The outcome is surely as profound as the premises! Fat is blasted, the muscle making machinery is sparked, and you walk out of the gym feeling naturally enhanced, smiling like Bob.

Besides, there's something to be said about redlining yourself from time to time, you know, just to see if you got the stuff. Testing your mettle, so to speak.

It's best to be prepared at all times, my friends, because ye know not when the master of the house cometh home.


The House of Pain Kettlebell Workout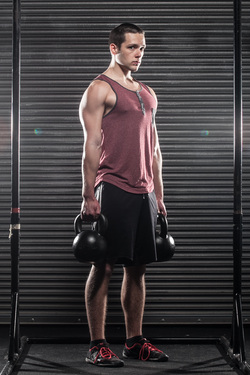 4 odious complexes, two rounds of each. Then, the ab butcher. Welcome, my friends, to the House of Pain.
Here, the chief aim is survival. Secondarily, it's poise under pressure.
Here are the recommended operating weights:
Males: a set of 20-24kg bells
Females: a set of 12-16kg bells.

Fresh Off the Yacht will be used to get the blood coursing:
5 x one arm swing

5 x cleans

5 x snatches

5 x jerks

5 x reverse lunges
Repeat on the left side to complete the complex. Run this complex twice.

Next up is two rounds of the Holy Fiver:
5 x Double Swing
5 x Double Snatch
5 x Double Clean and Press
5 x Front Squat
5 x Push Up
Then onto two rounds of Sequential Dismay:
8 x Double Clean
5 x Front Squat
5 x Double Clean
3 x Front Squat
3 x Double Clean
2 x Front Squat
2 x Double Clean
1 x Front Squat
Finally, a trip to the Ab Butcher:
8 sets x 6 reps of Hanging Leg Wipers
The Chronicles Of Strength Inner Circle
[FREE WEBINAR}
Here's what I got lined up for this month's
Inner Circle
members.
The Inner Circle Newsletter (March):
My unabashed thoughts on Crossfit
The Truth About Cross Training
How to Make a Strength and Conditioning Program that Doesn't Suck
My Thoughts on The Science of Exercise
The Vital Few: My Selection of the Choicest Exercises for Full Body Strength and Power

Inner Circle Webinars (March):

A Day In The LIfe of Pat Flynn. Oh Joy! Discover everything I do on a day to day basis to maintain my levels of health, strength and leanness. From what I eat for breakfast (if I do even eat breakfast…), to my daily training, to my daily mobility routines, and even my pre-sleep rituals. I'm laying it all out for you!
Webinar Request Night! That's right, you pick the topic, I give the presentation.
More to Be Announced.

Inner Circle Coaching Call In Days

15 Minute Speed Coaching Calls. Bring It!

Time Crunched Workouts of the Month:

The "Filthy Flynn Fifty". 8 of my favorite movements. 50 reps of each. No mercy.
The "Jagged Edge". A crash course on uneven double kettlebell complex training.

Paleo Recipes of the Month:

Paleo Jumbalya
Meatballs and "Pasta"

Want all this and more?

Then CLICK HERE to join the Inner Circle. No obligation. Cancel anytime.