Last month, I got an email from one of Pat's former coaching clients, telling me what he's been working on, and man, was I impressed. Back when Daniel was a client, he didn't lack in dedication or work ethic. He sent in his training/nutrition logs, he was receptive to feedback, and put in the work. And clearly, he still is putting in the works as he just succeeded in completing two of Pat's toughest programs – the Kettlebell Challenge and the Fat Funeral, and he did them back to back (WHOA). 
His was a brief email but it's too good not to share. Enjoy.
-Christine
Just finished this weekend with the [14 Day Fat Funeral]. Feeling awesome. Attached you'll find my after pictures.
I want to tell that program was hard, plain. It was not something as diabolic as I expected, I survived at the end.
Took this program 2 weeks after I finished the 21 day extreme challenge and I can tell you that I've never felt so well as now. The progress I've made with these 2 programs (10 pounds –for the 21 day- and 9 pounds –for the 14 day- down have created a habit in me I don't want to lose.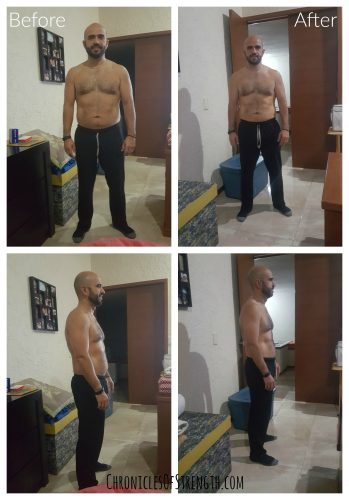 I'm already on your Inner Circle so I'll keep with my progress.
Thank you both.
Saludos,
Daniel
To get started on your own awesome results, check out the 14 Day Fat Funeral here.