First Steps Toward Starting an Online Business
I've been running my online business for nearly ten years. I do between $80,000-100,000/mo through a mix of passive and active revenue. I know some people do more. I know some people do less. I'm not here to compare myself with other online business owners. I'm here to share what's been working for me, and what I think are some smart strategies for getting an online business going.
First Steps Toward Starting an Online Business
OK, so let's start, here. Listen to this podcast episode, and then we'll diver deeper in the post below.
It's All About Your Email List
In my experience, everything has to be about the email list. People go crazy over social media and this and that and yes, there have been people who've done well with *just* social media. But I feel that approach is a mistake, as well as an anomaly. Your business will live and die by your database, the one YOU control. So you need an email list. And all social media should support that email list.
I use a mix of systems for email marketing. Some income I collect through Infusionsoft, other income I collect through Aweber, Stripe/Clickfunnels, etc. I have a problem of adding systems, but rarely taking one away. That is a problem. Don't do that. Keep your life simple, if you can.
Here's a screenshot I just snapped of my Infusionsoft dashboard, so you can see where I'm at so far this month based on my Infusionsoft-driven revenue, which accounts for around 2/3 of my business income. It's telling me I've made 16% less rev this month than last. Well, shoot. That's OK. We've got time.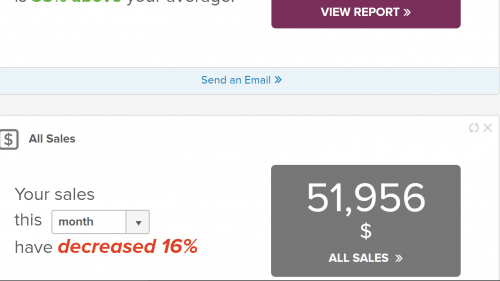 My recommendation? Start with the system you want to finish with. If I were starting over, I'd go with Clickfunnels. (You can get 14 days free HERE. Would be cool if you used that link, because then I'll get my rightful .13 cent commission if you do. Might help me make back that 16%.)
The point of building an email list is to cultivate a tribe and to follow up with people. 95% of my sales come through my email list, NOT through social media. Email > Social because you control the channel. You decide who sees your message and when. The problem with social is there is just so much noise. Everyone is drowning out everyone else. And at any moment, the algorithm could change. And your business with it.
Social media is an attention asset, as Chris Brogan would say. Use it to build a following, but then get that following to subscribe to your email list as soon as possible. That way, when the algorithm changes (and I've seen it change many times) you're business doesn't explode.
Another thing you need: Some kind of incentive for people to join your email list. This could be a PDF, an email course, a webinar–it doesn't matter. What does matter is that you make it awesome. Don't laugh. I'm serious. The biggest mistake people make when trying to build an email list is not coming up with a good enough reason for people to join. It all comes down to the offer.
I have two opt-ins (an opt-in is what we call whatever people get when they join our email list) that are doing really well right now. They are my 101 Free Kettlebell Workouts guide and my 5 Day Kettlebell Fat Furnace Fitness Challenge.
Note: Each of these opt-ins are 1) easy to consume and 2) deliver an almost-immediate benefit. This is of the highest importance. Don't offer people a 300 page tome. Because nobody is ever going to read that. Your opt-in is your first impression. Make it count.
My advice? Focus on solving a problem with a UNIQUE solution. "Overweight? Awesome! I mean, not awesome. But, like, awesome in the sense I've got the thing for you. It's called my 5 Day Kettlebell Fat Furnace." OR, "Hey, here's 101 of my best kettlebell workouts for burning maximum calories in minimum time."
The Role of Social Media, Blogging, Podcasting, etc
Once you understand that everything comes down to the email list, it's then up to you on how you want to grow it. This is where content marketing comes into play. You use social media and blogging and podcasting to drive people TO your email list. Everything you do, in some way, should be directing people to your email list.
The best approach is a mixed approach. Use all tools available to you. Facebook, Instagram, Youtube, Podcasting. The more platforms you use, and the more consistent you are across those platforms, the more exposure you will get. But ONLY if you are consistent, which is what people often struggle with. If that's the case, then focus on 1 – 3 platforms you know you can post daily content on.
Remember what I said in the podcast: When it comes to getting exposure and building an email list, you can either spend money (advertising) or time (engaging). Again, do both. Join groups, get on forums. Become the most helpful person around, and I promise people will start to check out you. But don't just expect people to find you. You've got to build that platform with some grassroots efforts at first.
Here is a short list of my social media activity designed to drive people back to my email list.
Daily Youtube Video (The Daily Strength).
I'll do another post on advertising when I do the podcast on advertising. Same with engagement, I'll do a post and a podcast on that, as well. In the meantime, get started with your email list, and begin working on the steps I've outlined above. Do that, and I promise you'll be making progress sooner than you think.
Questions?
Drop a comment, or email me at PatFlynn (AT) ChroniclesOfStrength (DOT) com.
Strong ON!
– Pat
PS – I do offer limited business consulting on the right person and project. Reach out at PatFlynn (AT) ChroniclesOfStrength (DOT) com if you want to discuss options for pushing ahead.
PPS – You might also enjoy my semi-regular business building emails HERE.