I am returned. And it was a wonderful weekend, full of much excitement and movement, and kvelling, and good people, and engaging conversation, and no grain alcohol, and Som was there, too.
Here is what we did. On the first day, we got up, cracked the joints, and hiked up a mountain. And let me tell you about this mountain—gather round, because it is worth the tale. This mountain had all the steepness of, well, to describe it properly, I would have to say it was somewhere between a wall and ladder. It was the kind of mountain where if you are walking up it every step is a pistol squat, and to go down you just turn the other way, sit, and ride it like a log flume.
Day 1 was all bodyweight strength training. We had amongst us a group of greatly strong and able-bodied gentleman, who all moved very freely and without impediment. This made our job exceptionally pleasant. They were so good, in fact, that many of the time we had to invent problems, just to show them what real life is like.
For the push up and the squat we sunk into great depths and explored their more finer and most secret intricacies. We then did this drill where you tempo the push up. This makes it more—I was going to say difficult, but let's go with interesting. Here's how it works. Start at the top and lower yourself for a count of five and bring yourself back up, again, for a count of five. Then, without resting, lower yourself for a count of ten—keeping the elbows in, no exceptions—and bring yourself back up for a count of ten. Continue this process, increasing each rep by five seconds, until your form falters.  The highest I have ever climbed, was 30 seconds down, 30 seconds up—and that is after hitting all the sets before it, which makes me thinks I'm pretty strong and tough and could attract just about any lady on whom I was keen to acquire for MY YACHT.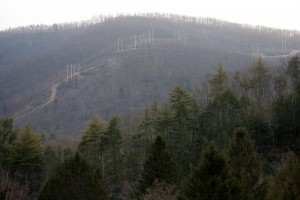 We explored, as well, the one arm push up and all progressions thereto, the pistol squat, and all the progressions thereto, the pull up and all the variations therein, hollow positioning, crawling, rocking, rolling, and other such ectceteras. Som, expanded upon the Hindu Push Up, the Hindu Squat, and blah, blah, blah.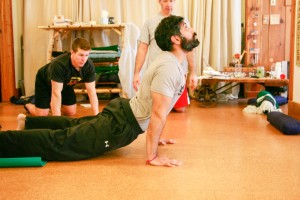 Day two went a little gentler. But that is not true. We wanted it to go a little gentler, so we opted for a flat walk instead of hiking up a wall. But one cannot have it how they want it all of the time. And so the walk, as it turned out, was wholly and completely atop a sheet of ice; the pavement caked many layers thick for all over however many miles we walked, probably two and a half or three, I wasn't really counting, just praying; and the whole time you just inched your way along, taking baby steps, and keeping your butt low to the ground so that if you did fall the punishment wouldn't be crippling, and by the graces I only spilt myself once onto the hardness of the earth, but boy did I give myself a good knock on the head, and for a moment all went very fuzzy white, just as it looks just when you turn on the VCR real quick, if you can even remember what that looks like.
But I shook it off and soon reclaimed my faculties. When we got back to the cabin, well shit if we didn't juice some carrots. I was feeling naughty and threw in a little extra ginger. Nobody seemed to mind the added spiciness. If anything, they were delighted by it, enthused by it, and all requested the recipe. So I let them in on the secret: Ginger and carrots.
The rest of the day was 99.3% kettlebell work, the remainder bodyweight stuff. We stripped it all down to its most nakedest parts; the swing, the one arm swing, the get up, the single leg deadlift—and I'm going out of order here, but whatever—the goblet squat, the front squat, the clean, the double clean, the snatch, the military press, and, I'm trying to remember if there was anything else, but that knock on the head has me thinking in circle again…
You get the point, it was really nice. I coached good as I could, Som did, too, and we even collected some applause.
Killing It With Kettlebells
April Certification Now Open for Registration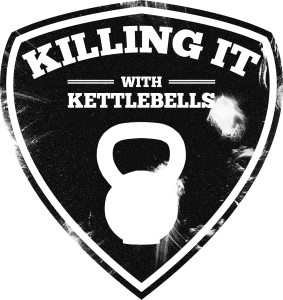 In all seriousness, I want to invite you to our Killing It WIth Kettlebells Certification, April 4-6, with Som, myself, and Dan John (Dan will be running his entire brand-spanking new "Reasonableness" workshop on Day 3).
If you are already in the fitness biz, or seriously looking to get into the fitness biz, we can help you get the word out, grow your business, help more people, and profit with integrity.
We are the ONLY kettebell certification that focuses on teaching you how to start, grow, and market your business, as well, as how to run large group kettlebell bootcamps.
That being said, this is not a cert for the kettlebell neophyte. We expect you to come with some experience. This is a cert where we teach you how to teach–specifically, how to teach in a large group format; and while you are here, that's exactly what you will be doing, so it helps–but is not mandatory–that you come in with SOME teaching experience as well.
Registration is now officially open. We keep our certs limited to 12 participants, so we can offer the kind of personal feedback and advice that we believe all of our attendees deserve. Four spots are already taken from folks who were on the wait list from previous certs, so please secure your spot ASAP.
CLICK HERE to register now. All of our certs have sold out within a month, so do not hesitate or delay.
Did I mention Dan John is going to be there?
If you have any questions, please email me directly at PatFlynn@ChroniclesOfStrength.com with the subject line of "KIWK".