Discover The Simple and Non-Conformist Path For Getting Everything You Want Out Of Life!




(Here's a Little of What to Expect Inside




"Fitter, Happier, More Productive"

)



Nothing to Lose! Everything To Gain!
Here Is My Personal Promise To You…
Finally, a
"NO BS, Take No Prisoners, and No Holds Barred"
Fitness Solution!

I AM an action taker!
And I refuse to live another single second of my life with a body that I am not exceptionally proud of!
I am ready to begin treating my body like a temple; NOT a tool-shed.
And I am ready to discover the proven and simple path toward uninterrupted prosperity, progressive personal development, and looking DAMN good naked!
I also realize that if I am not completely satisfied, that I will receive all of my money back with no questions asked!
Please send me a copy of your revolutionary new eBook "Fitter, Happier, More Productive" right away and bill me for the one time payment of…


Still Not Convinced?
Are You Really Willing
To Miss Out On All Of This…

(and so much MORE)
5 proven strategies for an incredible night's sleep

– no more tossing and turning in bed at night, being kept up by the unremitting occurrence of your own stressful thoughts!

Add an entirely new dimension of "desirable anguish" and effectiveness to your strength training routine with Kettlebell "Pain Chains"

Discover pain free movement and reclaim your mobility

– through our dastardly "MobilityTorture Chamber",

proven to instantly increase suppleness and muscular elasticity in even the most rigid and restricted individuals!

Understanding the "Time=Money,Money=Time" equation

and how to use it to your advantage for a more prosperous, fulfilling, and liberated life!

How to make all of your obstacles "self-destruct"

through the systematic development of unyielding self-discipline and bullet-proof time management,

two skills that everyone CAN and SHOULD be learned by many, but is mastered by very few!

Best practices for making a 24 hour fast as painless as possible

.

How to make one of the most naturally rejuvenate actives that you can do "fail-proof"!

How to make your healthy habits "socially acceptable" (without having to acquire new friends)!

Why high rep strength training has failed you

,

and how a reversion towards "old-timey" strength routines of "just one rep" will propel you far into the ranks of athletic and aesthetic excellence!

The final verdict and verity on optimum pre and post workout nutrition!




Exactly what to take, how much to take, and when to take it for maximizing results!






[NOTE: Fitter, Happier, More Productive is in eBook format and will be immediately delivered to your email inbox upon purchase. There is zero wait!]
It Comes Down To This…


I have dedicated the last 1/3 of my entirely to progressive personal development – the physical, the mental, and even the spiritual…
I have literally spent

tens of thousands of dollars

over the course of five years on

certifications, seminars, higher education, business development programs, home study courses, mastermind groups, and studying under world class coaches

to bring you everything that is in this book!
That is exactly why it is subtitled "Notes on how to increase output, Forge the Body of Your Dreams, And Save Your Own Life"!

So to say that the value of the information contained in this book is both priceless and unquantifiable, is a severe understatement considering the
amount of blood, sweat, tears, dollars, and time that I have invested in systematizing the process of getting what you want out of life!
Yet, here I am, offering it to all of you for the one time fee of just $67!
(Or $47 if you act within the first four days)
So why am I doing this?
Why am I making such an incredible offer?
Because I know that this book will save lives. That's why.
And I am on a mission to get this book and the Fitter, Happier, More Productive philosophy into as many people's hands as possible, regardless of their financial situation.
Because the most valuable lesson I have ever learned in life thus far, is that the best way to get everything you want out of life is by helping others get what they want!
So there you have it!
All I ask now is that you take me up on this incredible offer, begin implementing Fitter, Happier, More Productive into your life immediately, and become my next success story! There is zero guesswork, confusion, or ambiguity! Everything single thing that you need to succeed is found inside this colossal (and at times downright unusual) book!


Get Your Copy Of

Fitter, Happier, More Productive

Right Now!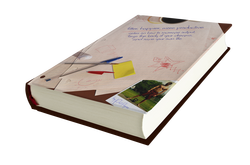 PS

– It would mean a great deal to me if you would let everyone know what you think about the book once you get a chance to read it! Please share your feedback and any questions that you have in the comment section for a chance to win a COS Swag Bag (consists of a hardcover copy of The Birth of a Hero and the elusive Chronicles Of Strength T-Shit).
I will pick two winners at random on Sunday evening (July 15th)!
PPS – Please don't keep this book a secret! "like" and share this page with your friends!