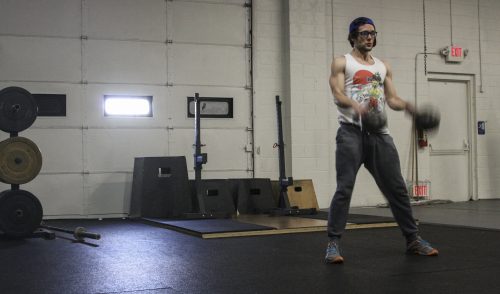 I started video blogging because I have the same problem almost every other minor fitness internet celebrity does. We feel, on the average, that we are a whole lot more interesting than we actually are. And this series, if nothing else, should show that to be true.
The point being, my days are often straightforward and fairly mundane. My behavior very repetitious. I do a lot of the same things, eat a lot of the same things, go to a lot of the same places, talk to a lot of the same people. So maybe vlogging will force me to break out a little?
Probably not.
Either way, my plan is to keep the content helpful. So I'm shooting for 60% stuff you can use (workouts, tips, etc) and 40% whatever else is going on in my day.
[vlog, Ep. 2] Fixing Your Kettlebell Clean
In this episode!
– How to stop banging your forearms on the kettlebell clean.
– The "8,5,3" workout. Tough, but I think you'll like it : )
– Cool mobility move for improving squat depth.
– Start-stop swing "finisher".
– Guitar licks
– Trip to the grocery store!
Strong ON!
– Pat
PS – You might also enjoy my Inner Circle, because that's where the party is tonight.