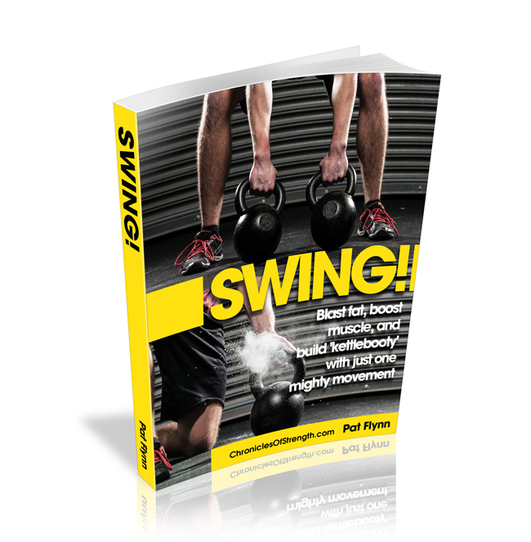 So check it out
Most people swing with really bad form, right?
Right.

And… well… being the "form nazi" that I am, I want to help people swing with really GOOD form. I probably can't help everybody, but I'm going to try anyways.

So I put together a new eBook, specifically on the kettlebell swing.

It's called Swing(!) and I want you to have it, for FREE. (It won't be available for free for long, only this week actually, then it will be $15.)

Here's a little bit of what you can expect in this eBook:

The 10 swing mistakes to NEVER make and how to fix them (almost everybody makes at least two of these errors).


The 8-point checklist for damn-near perfect swing technique. (You should run through this checklist before every set of swings you ever do)


How to swing WITHOUT wrecking your back.


How to learn the swing from ground up, in a safe, reasonable, and progressive manner (included are my favorite corrections, cues, and remedial exercises for patterning a deep and powerful hip hinge).


The 3 most useful drills for troubleshooting and correcting really crappy kettlebell swing technique.



7 Super-Duper, Time-Crunched, High-Intensity, Fat-Blasting Kettlebell Swing Workouts (Each of these workouts takes less than ten minutes, and melts fat like raw meat on a hot grill).

There's no catch here. I want you to have this eBook, and, if you get a lot out of it, which I really and truly believe you will, well, then it'd mean a lot to me if you spread the word and share this post with your friends.

Anyways, you can grab your copy by filling out the form below, but hurry, because once this offer is gone, it's GONE!

Now go, SWING!

– = +

OFFER EXPIRED!