Getting Started with a Low Carb Diet
Alright well let's talk about low carb diets and how to get started with one.
Getting Started with a Low Carb Diet – Part 1
(An Overview of the Ketogenic Diet, Along With It's Pros and Cons)
Getting Started with a Low Carb Diet – Part 2
(Getting Into Ketosis, How to Combine it With Strength Training,
and Some Supplements that Can Help.)
Most of you know by reading my emails that I am a person who eats pretty low carb and is in ketosis a lot. But you will also know by reading my emails that I am not some sort of low carb fanatic who has nothing ever negative to say about it or tries to force people into it.
I think going on a low carb diet has a lot of benefits possibly, even if you do it just once or twice a year. Other people may like to be in ketosis forever which is fine, and which by the way ketosis is when you burn ketones rather than glucose, mostly.
So the short of going low carb is that it can help with insulin sensitivity, hunger control, body composition, metabolic flexibility, energy regulation, etc, which all of these of course related, because when, for example, say hunger is not out of control, you are not going to no eat as much and in turn that will improve body composition and many of those other things.
So now some people will say, "Well a low carb diet only works because of a reduction in calories and because of how satiating a higher fat diet can be!" and, well, yes, actually. That is very good!
But there seem to be other benefits as well and beyond that of mere calorie restriction, like for how a lower carb diet may be more effective for improving insulin sensitivity and even performance in older/more advanced athletes. This makes pretty good sense since we become more intolerant of carbs as we get older, that a lower carb diet or even occasional fast could improve this. "This" being a more efficient utilization of energy. That is what "this" means.
There are also some people who say that ketosis may be a good way of not getting cancer, which I'll let you look into that on your own.
But I will tell you from my experience that being in a moderate level of ketosis (1 – 3 millimolars, which you can measure with strips) is a good strategy for me and which that's because it keeps my body fat low and energy high and strength pretty even. Remember also that I am a former fat person and do not have what most consider to be "good genetics."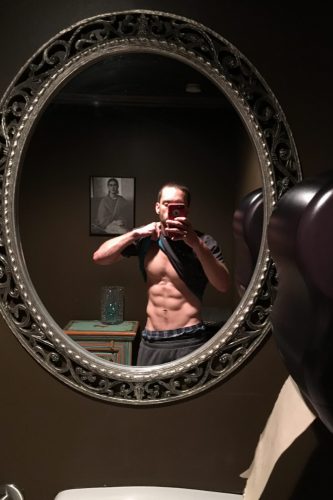 So the framework for getting into ketosis is a kind of variation on the Atkins Diet. What I mean is you want about 70 – 75% fat, 20 – 25% protein, and hardly any carbs aside from certain, fibrous vegetables like kale or I forget the other one.
What you don't want, and which this is a mistake I made on my first go at it ("it" being ketosis. That's what "it" means.), is to have a lot of protein, because what your body will do is just convert that protein into carbs and kick you right back out of it. "It" being ketosis. You also however do not want to have too little protein otherwise you may go beyond "moderate ketosis" and see a performance loss and also you may even lose some muscle.
So those are the practical guidelines and which now the question is how do you do it? Because perhaps you have tried a low carb diet before and found it highly unlikeable.
Well I will tell you that, like exercise and also like fasting, going low carb will elicit a sort of stress response, and that this stress response happens when your body is transitioning form burning sugar (glucose) to burning fat (ketones) and is normal and expected and some would say even somewhat healthy.
In other words this stress response is what makes you more metabolically flexible but the downside is that, like exercise and like fasting, is it may feel unpleasant at first and especially if you've never done it before. Some people say they feel lightheaded and irritable and have trouble sleeping even. I will tell you that I had all of those symptoms and more and that it felt sort of like how it does when I am around my in laws.
Now a good deal of this can be explained by the lag between which your brain is getting fuel from sugar and then from fat and the corresponding drop in neurotransmitters, etc. Neurotransmitters are these little things in your brain, which they're very scientific and hard to explain. Someone tried explaining these to me once and I said, "Alright, thanks. I think I got it. Now are you getting the soup, or what are you having?"
The good news (however) is this ("this" being the carb flu) will reside so long as you can stick with it or attempt fasting/going low carb more often, because in the same way your body responds to the stress of exercise it too will respond to the stress of not having carbs.
So really my first bit of advice is having the expectation that maybe you aren't going to feel so great those first couple a days. By expecting this and also understanding what is happening you are more likely to stick with it.
My second bit of advice is to perhaps add in more fats like coconut oil, which contain medium chain triglycerides and can act in place of carbs. This is not a foolproof method but it can help take some of the edge off.
Alright, well goodbye, or if you have any questions then just let me know in the comments.
Strong ON!
– Pat
PS – You might also enjoy my Strong ON! because I have a aggressive plan (for fat loss) which uses low carb and fasting and coconut oil. It's a little weird but I think you'll like it.
PPS – Also, don't forget about getting on my email list, because I'll give you 101 free kettlebell workouts if you do : )