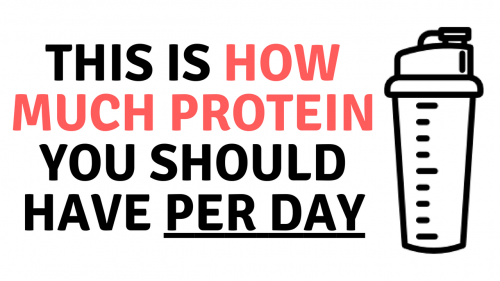 How much protein should you have per day? The answer, of course, it depends. But if you're someone who wants a solid number, I'll give it to you. But can we at least discuss some principles, first? Oh, goody. Principles are fun.
How Many Grams of Protein Should You Have Per Day?
It seems around 75 grams a day is the starting point. That's enough protein for building muscle, assuming you're lifting, and a good amount for satiety, as well.
The other metric, which I find to be equally useful, is consuming 1g per pound of LEAN body weight daily. If you wanted to be aggressive, you could consume 1g per pound of total body weight daily, but for most people, that's often more than you need.
It should also be said that higher protein diets are not essential for gaining strength nor muscle. What IS essential, is resistance training, and overall caloric intake.
People gain strength and muscle on low protein diets all the time. But nobody gains strength or muscle who isn't resistance training or eating enough. That said, most people will have an easier time a moderate amount of protein included in their diet. Again, I give the recommendation of 75g per day.
As for the best sources of protein? I say! That's worth certainly worth having a chat about.
To be brief: Protein source is far less important than–*yawn*, I know–resistance training and overall caloric intake. Principles are so boring! Whoever said they were fun?!
But once you've got all that sorted out, I'd recommend a whey, like Very Good Protein (wink, wink), a vegetarian protein, like hemp, pea, or brown rice, as well as lean meats, fish, and eggs. Fatty meats are fine, too, but come with a lot of extra calories you may or may not need.
Questions? Comments? You know what to do ; )
And be sure to subscribe to The Daily Strength on my Youtube Channel HERE. 
Strong ON!
– Pat