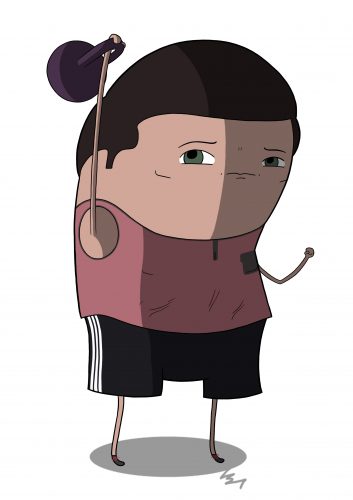 The kettlebell snatch is where you swing a kettlebell overhead, like this. The motion should be smooth and pretty and uninterrupted also.
So this post is a little bit about how to do the snatch and a little bit about how to use it for fat loss and getting better stamina for yourself.
Well hello everyone it is me again so settle in and let's get started with today's lesson. What I would like to teach is how to do this kettlebell snatch exercise, alright, so go ahead and click play.
Your first question is probably, where did I get that shirt? The answer is I got it on Amazon so click here and get yourself one and also yes I will get a little commission from that, so thanksss.
Your next question is probably why is it that when I am wearing a muscle shirt I look so Spartan-like but when fully clothed I look kind of weasly instead? The answer is the lighting at the gym is not great but if you were to see me in person and squeeze my muscles you would be impressed.
Next, how do I not bang my forearms so much? So well the secret to that is to make sure you are "spearing" through at right moment. If you are too late on locking out the bell will flop over and land with a serious thwack. Or if you are too soon you will wind up in some kind of half-press which is awkward and pretty goofy looking.
So what I have found is the spot you want to "spear" through is about at the height of your eyebrows, or in some cases eyebrow, which I say only because I had a teacher in the third grade who had only one eyebrow and when I ast' her why that is she said it's because it fell off from the stress of having teach kids like me. So if she was snatching I would say eyebrow so she doesn't feel like she's not included, at least that's what I would do if I was teaching. But not everyone is so sympathetic.
Also try to remember that when snatching you do not want the bell to get too far out in front of you. This is what's called "taming the arc". I don't know who came up with that term so it might a been me unless you can figure out who else might a said it. But the point of "taming the arc" is so the bell moves in a path that is more straight up and down which is considered to be more efficient by the majority of experts which of course that would include myself.
But I was going to tell you about some workouts you can use for snatching to really get the heart rate up and sweat with. Most of these are pretty high rep so get ready.
5 Time-Crunched, Delicious Snatch Workouts
Workout 1: 100 rep snatch test
100 reps as quickly as possible. Target: 5 minutes with 24kg (men); 16kg (women).
Workout 2: Snatch and lunge complex
10 snatches
10 reverse lunges
10 snatches
8 reverse lunges
10 snatches
6 reverse lunges
10 snatches
4 reverse lunges
10 snatches
2 reverse lunges
Switch sides and repeat. AMRAP in 10 – 15 minutes. Men use 16 – 20kg; women 8 – 12kg.
Workout 3: Viking Warrior Workout
15 seconds ON/15 seconds OFF for 15 – 30 minutes.
Men use 16 – 20kg; women 8 – 12kg.
Workout 4: Snatch Grip Ladder
1 – 5 ladder with one arm swings between every run. Men use 24kg; women 16kg.
Workout 5: The Mixer
5 snatches + 5 presses (l+r)
5 snatches + 5 cleans
5 snatches + 5 reverse lunges
Men use 16 – 24kg; women 8 – 12kg. AMRAP in 10 – 15 minutes.
Workout 6: The Poached Pear
20 seconds ON/10 seconds off for 4 minutes. Do 3 – 4 rounds.
Men use 16 – 24kg; women 8 – 16kg.
…
Alright well that's enough for today and I hope you liked it.
Strong ON!
– Pat
PS – You might also enjoy my Inner Circle because there are a lot better workouts in there!