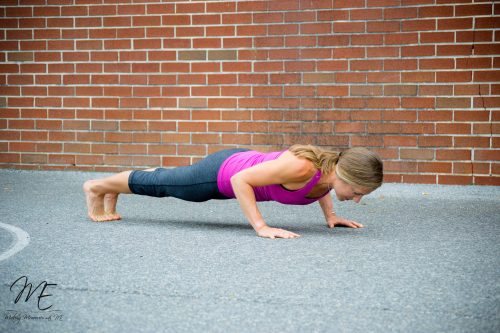 One push-up burns approximately 1/3 of a calorie.
At this rate, you could cancel out a slice of holiday cheesecake with a mere 775 push-ups!
Assuming you can do 100 push-ups in 5 minutes or so…
You'd be able to indulge, without reservation, after just under 40 minutes' worth of push-ups!
Boom. You're welcome. Strong ON!
I kid, I kid.
Fear not, my buff bodyweight bedlamites! There is a better way.
When it comes to working out over the holidays, I don't have to tell you that it can be tricky. You're being pulled in a million different directions, and you're (understandably) prioritizing time with family and friends over time with the ol' iron.
But, if you're used to workout out regularly, you also might feel restless without an outlet.
Or, if you're finally on a roll with consistency in your workout routine, you might fear a slip back into your old ways.
Alas, you will likely find yourself in a situation that, at first,
does not seem conducive to fitness success.
Perhaps you're trying to workout at home in the few moments between baking cookies with your kids and heading to the Christmas parade.
Perhaps you'll be trying to workout at the home of your holiday host, where you have been graciously provided an air mattress in the corner of the dining room. (In this situation, my first choice would be a run. For more than a few reasons. One of which would certainly be escaping the other people.)
But how could you possibly get a fat-obliterating, calorie-combusting, and even muscle-plumping workout with all of these odds stacked against you?
For Santa's Sake, I've got it!
Fair warning, though: If mental fortitude is not your thing, this prescription is not for you. It requires only three minutes, but it requires repeated effort to failure.
First, I'll show you how it works. Then, I'll give you two examples.
Step 1. Find yourself a piece of ground that gives you roughly 4 inches in excess of the length and width of your body.
Step 2. Ensure that you will not be disturbed. You will not want to be disturbed.
Relatedly, ensure that you will not disturb. If others can hear you, they will very likely be disturbed in every sense of the word.
Step 3. Make your plan.
-Pick a basic bodyweight move. I'll suggest two: the squat and the push-up.
-Determine what the "maximum intensity effort" of that move would be.
-Determine what the "incrementally-decreasing intensity" moves would be.
Step 4. Set your timer for 3 minutes.
Step 5. Commence the misery: Begin with the "maximum intensity effort" movement until you cannot perform a quality version of it any longer. Drop down to the next-most intense movement until you cannot perform that a quality version of that movement any longer. Continue in this way until the ding of the timer relieves you of your agony. If desired, repeat steps 1-5 as soon as possible with another movement OR try that same movement in another round later in the day.
SWEATY Example 1: Liquid Legs
Three minutes, no rest, maximum effort:
Tuck jumps to failure;
Squat jumps to failure;
Squat to toes to failure;
Standard squats to failure;
…wide-stance, narrow-stance, any variation to keep on truckin' squats
SWEATY Example 2: The "Do we have to use the heavy silverware?" Special
Three minutes, no rest, maximum effort:
Explosive push-ups to failure;
Spider push-ups to failure;
Standard push-ups to failure;
Wide-grip push-ups to failure;
…worm push-ups, knee push-ups, elevated-hands push-ups, any variation to keep on truckin' push-ups.
If you're beast enough to take on a Challenge Sweaty,
post a comment below with the description of your victory!
P.S. For a sleighful of ideas to keep you more agile than Santa's reindeer on Christmas Eve...erm, sorry about that…for workouts to keep you more radiant than Rudolph's nose…darn, there I go again…uhh…for tips to build your body more efficiently than Santa's elves building toys this season…turn out, I just can't help myself, eh?…join Pat's Inner Circle!