Anna Dajero is one of Pat Flynn's start online coaching clients. Here's how she lost 50lbs training with Pat entirely online.
A while back, I got to meet one of Pat's star clients, Anna. She had come to an in-house event that Pat and Som hosted at Dragon Gym, and I recognized her immediately. She's become kind of a celebrity around these parts because of the incredible progress she made in a relatively short amount of time. She smashed body fat (lost over 50lbs!), killed it with her strength gains, and proved that being a mom of two young children wasn't an excuse not to take care of herself. Anna struck me as a positive calming force, like water.
So I asked her recently if she could share a bit about herself for the blog. Her mindset, methods, and motivations are worth reading because it's not every day that you find someone who loses 50 pounds in 6 months and keeps it off and embarks on a better brighter lifestyle because of it.
COS peeps, meet Anna Dajero, our client spotlight of the month. She's one inspiring lady.
-Christine
Tell us a little bit about yourself.
I'm a 41-year old mom of two little girls.  I live in Melbourne Beach, FL.  I serve other people who are struggling with emotional overeating, stress eating, or poor body image so that they can get lean, feel confident and fall in love with who they are.  I have a baby-steps approach and with just a few new habits in place, a person can overcome the obstacles that are holding them back from getting the body they want.
Favorite Mantras:  "Exercise. Meditate. Love."  and Just Be You!
What are your go-to keeping fit activities?
I follow Pat's programs, so right now I am doing Strong On!, I recently added in the HardBody Blueprint workouts.  I don't like to have to "think" too hard about what to do in the gym, so it's nice to just open my email up in the locker room, see what Pat says to do, write it in my workout log, and then go do it.
His programming is challenging, interesting, and even fun.  His programs have inspired me to do more and try new things in the gym.  A big leap happened for me when I did one of his programs that called for using barbells.  Up until then, everything I did was using kettlebells, bodyweight or pull up bar.  I think the barbells kind of intimidated me a little.  Once I got over the learning curve of it, I really enjoyed it.  There's this "swoosh" of energy I feel in my entire body when I lift something heavy.  It's a really cool and unexpected feeling 🙂
What does a typical workout look like for you these days?
A 5-minute warm up, I use a funky little foam roll thing, rocking, bird-dogs, squats, and hip hinges.
Then, I do Pat's Programming. Right now it focuses on Lower Body or Upper Body and could take 20 – 40 minutes to complete.  Then I follow it up with PSP (Pocket Sized Programming) workout, if I'm feeling energetic.  I wish I could say that I get points for originality, but I really just do Pat's programs…and check in with him whenever I need to have him take a look at my technique.  I sometimes like to add some of his other programs on top of what I'm doing. There's only been one instance where he was like, "No. Wait til you're done with that one before doing this one."  Other than that, they seem to dovetail with each other nicely.
What's your training philosophy?
Hmmmm…I want to be the best I can be and however that looks and feels, I'm okay with it.  So, I guess my training philosophy is to maintain and improve my body's systems and functioning as they are today.  I'm 41, not 21.  So, I see training (and proper nutrition) as my true health insurance policy.  Pat's "minimalist" approach is ideal for me…I want to be safe.  I only want to do the minimum of what is necessary to get results (I have two toddlers (a 3 year old and an almost 2 year old), so time is of the essence).  And, I want to feel confident about how I look.  Oh yeah, and every now and then, I want to feel like I can be a little bad-ass by lifting something heavy at the gym.
What's your life philosophy?
Wow!  This is a tough question.  Tough in that it's easy to talk about working out, harder to talk about the heart.  I would say that my life philosophy is that each of us has something unique, something important to do with our lives.  It's the reason why we are here.  Some call it a mission or life purpose.  I think of it as the ultimate possibility or potential of what I am.  My philosophy on life is that I'm gonna do whatever it takes to become the best version of myself, physically, mentally, and spiritually.  I take care of my body with diet and exercise, I take care of my mind with meditation.  So what's left?  Spirituality.  And, for me, that means being of service.  My greatest hope is that on my deathbed, I'm able to look back and say, "Ahhh yes.  I did what I came to do.  And I did it the best way I could.  And I did my part to leave this place just a little bit better than when I arrived."  It's probably strange to talk about death when asked about my philosophy on life.  So, here's a positive spin on it:  Create.  Love.  Be Grateful.  Be Real.  Be Kind.  And See The Best In Everyone I Meet.
My greatest hope is that on my deathbed, I'm able to look back and say, "Ahhh yes.  I did what I came to do.  And I did it the best way I could.  And I did my part to leave this place just a little bit better than when I arrived."
What was the biggest shift in your mindset from working with Pat?
That I am strong and great.  I used to read that line in his emails and think, "oh, how cheesy."  But I guess I felt that way about it because a part of me didn't believe it.  Once I started believing that I am strong, huge shifts in the way I perceive myself started to change for the better.  And oddly enough, lifting heavier weights enhanced that.  It's empowering to go through what it takes to get stronger.  The grit and grind of it.  It carves the character.  It's good for the soul.
What strength/physical achievement are you most proud of?
There are actually three instances that come to mind:
1 – My first pull up after Baby #1 (Laila).
2 – My first push up after Baby #2 (Kira).  Once I was able to do a push up again, I believed that I would be able to reach the rest of my goals.
3 – Being able to lose the baby weight after Kira.  I became a private client of Pat's after #1. Prior to that, there was this little voice in my head that didn't know if I could.
What were some of the biggest challenges you overcame throughout your transformation?
I've struggled with emotional overeating my whole life…at least since I was 10 or 11 years old.  And even though I was in the fitness industry (I had taught group fitness classes and yoga), I carried a lot of shame because I couldn't get a handle on my overeating/binge eating problem.
So, when I hired Pat, I was desperate.  I had never been that heavy.  And everything I knew to do wasn't working.  And, I had this little baby, so I didn't have a lot of time to figure things out.
Around the same time that I started working with Pat, I also started doing this style of yoga called Kundalini Yoga.  It has a lot of meditation, not like the other style of yoga I was doing before.
In retrospect, I think that I was actually able to do Pat's programming (especially the nutrition part) because I was meditating and clearing away the part of me that was the source of my self-sabotaging behaviors.
Overall, I think the biggest challenge I had was my low self-esteem.  I never would have admitted that I had poor self-confidence.  But Pat is such a good coach!  I remember watching a webinar he was doing on the Metabolic Reset or something and he showed my before and after pics on one of his slides.  At first, I was mortified.  I couldn't imagine how many people just saw me in a bikini.  I emailed Pat and told him to please put a black bar over my eyes like they do in Cosmo when they show fashion don'ts.  Anyways, he told me I should be proud of what I accomplished.  And I can honestly say today, that I am proud.  It takes hard work and perseverance.  And I'm proud of myself for all the inner and outer work I've put in.  Pat was part of the catalyst for that transformation, and I have no doubt that he has had that effect on many of his clients.
 It's empowering to go through what it takes to get stronger.  The grit and grind of it.  It carves the character.  It's good for the soul.
What strategies did you use to overcome those challenges?
Aside the direct accountability from Pat? Because that can't be understated.
Meditation is another one. I started with just 3 minutes a day and my practice quickly evolved into 11 minutes a day whenever I could.  Now, I practice every morning before the rest of the house wakes up.  It's the best way to start the day.
The other strategy I used was just being consistent and logging in my workouts in a little journal.  I don't necessarily re-read what I've done.  But I write it down.  And every week, I try to do one more rep or lift just a wee bit heavier than the last time I did that exercise.
I don't have many "rules," but this is one of them…I don't let more than 3 days go by without getting my workout in.  And that's almost too long!  For me, eating right is tied into working out.  In order to feel good while working out, I need to eat clean and light.  Exercise keeps me from over-indulging too often because some of Pat's kettlebell complexes (Hellion, Ugly Mother) are tough enough as is…I don't need to feel all sluggish and bloated while attempting to do one of those things!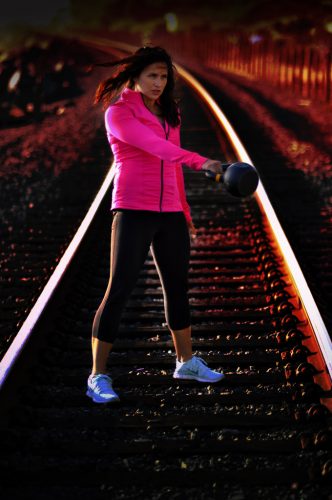 What goals are you working towards now?
My fitness goals are to reach 10 pull ups.  I'm currently at 8.  And the 8th one I shouldn't even count because it is all kinds of ugly!  I also am working towards 200 snatches in 10 minutes.  I have a ways to go on that one.
What's next for you?
Well, one of the things I learned through my own transformation process was the significance of having a coach like Pat as a guide and support.  That first time around, I don't think I would have reached my goals without him.  And if I could, it probably would have taken a lot longer.
I also learned how important it is to be part of a community of people who want similar things…So now, to keep myself on-point and to provide a space for other people, I'm spearheading this community on Facebook called Sweat. Meditate. Love.
The concept behind it is that for physical stamina, you gotta exercise.  For mental stamina, you gotta meditate.  And for spiritual stamina, you gotta love.  So the group supports its members to create habits to sweat, meditate, and love every day.
The group runs 40 Day Fitness & Meditation Challenges and we share ideas, tips, and support on how to make long-lasting healthy habits to get us closer to our highest potential.
To learn more about Anna, you can find her at her website and on Facebook.
P.S. Anna almost didn't work with Pat. She had reasons (excuses) of why it wasn't the right time, she wasn't ready, she was too busy…But then she realized she was getting in her own way. She had goals to reach, and she knew she needed help reaching them. So she took the plunge and became a client of Pat's, and her successes speak for themselves.
If you think you may want to work with Pat, you can apply directly for his online coaching program HERE.