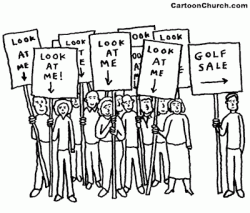 How to be an Effective and Shameless Self

Promoter

By: Pat Flynn RKC
Chronicles of Strength

The truth is, that nobody really wants to promote you. Sorry Charlie. That is not unless you've been successfully promoted before. A sick paradox I know.

So if you want it, you have to get it done yourself.

With all the tools available today, there is no reason why you shouldn't be promoting yourself; under the assumption that you know what you're talking about. Because nothing is more annoying than wasting your time listening to someone promote themselves as something they are not.

So where do you start? How do you get the ball of shameless self-promotion rolling?

I'm going to put this to you as delicately as I can.

This will not be easy. More than likely you will fail, and fail more than once. But remember, in order to succeed, you must first start tallying up your failures. So expect, and accommodate for failures, as they will surely occur. But what I can offer to you, are the best tips, tricks, and knowledge that I have available to me about self-promotion.

I first launched my website back in 2008 under the address AbleBodiedKettlebells.com, and I eventually changed it to ChroniclesOfStrength.com. I have had many failures, but I have also had many, many successes.

So let's get started. The first step you have to take in order to be a successful self promoter is to:

1. Create a marketing plan

Let's first WASH up on your marketing skills.

The first step in developing a proper marketing plan is to evaluate the situation. Situation analysis can be dirty, tedious work, which is why we need some SOAP.

S – subjective
O – Objective
A – Assessment of Task
P – Plan of action.

The acronym soap is used to help you analyze your current situation. The first letter in soap is S (really!), which stands for subjective. Subjective means YOUR viewpoint. How do you feel about the situation? What are YOUR feelings and expectations? This is obviously bound to be a biased opinion, but that's OK! Just because it's biased does not mean it is entirely wrong! But realize there is a fine line between being biased and naïve.

For example, say you want to start your own system of strength and conditioning, using a tool that nobody else has ever heard of before…let's call it…the Powerbell for the sake of simplicity and relativity. Now let's pretend that you developed the powerbell and a full system of strength and conditioning around the Powerbell through years of experimentation in your grandmothers basement, so you know exactly what it is capable of. Your opinion on it may be that you feel it is the greatest, most effective fitness tool to ever grace the face of mother earth. That would be a subjective viewpoint. Biased? Perhaps. Wrong? Maybe, Maybe not. Either way, the subjective analysis is critical.

The next letter is O, which stands for objective. This is the neutral point of view, or the outsiders perspective. As unbiased and as fair as you can get. This can often be difficult for you to develop on your own. So you may want to ask a stranger, or that wierd distant uncle of yours that you haven't talked to in 12 years.

We all know that every family has a weird uncle, so let's pretend we ask him. Say you haul your Powerbell over to your uncles house the next time he hosts Thanksgiving dinner, and you ask him what he thinks of it. Hopefully, he will be unbiased, regardless to the fact that you are related, and give you an honest objective analysis. He may say something like while powerbell seems like it may be an effective tool, it may not the end-all-be-all fitness implement. He might also tell you that the obscure and intimidating look of the powerbell might turn some customers off. Now you have an objective viewpoint. Now your uncle is sedentary, fat, and still has his mullet form 1986. But does that make his viewpoint wrong?I Maybe. Maybe not. The point of obtaining/developing an objective viewpoint is so that you may analyze the situation from an alternate perspective. Hopefully an objective point of view will help to point out things that you might never have noticed before, whether they are positive or negative aspects.

Great, so you have a subjective and objective analysis of the situation. Now what?

The next thing to do is to assess the task at hand (letter A). What is it that must be done? If your task is to market and eventually sell/distribute the Powerbell, then you must assess all that must be done in order to do so. This step can be quite discouraging, as a deep assessment will reveal that you will most likely encounter more work and pitfalls than initially expected. This is the step that separates the people who really want it, from the people that kind of want it. You have to be completely honest with yourself. Assess everything that must go into completing the task, such as investments of capital, time, risk/reward, etc. This is not an easy task, and surely as you progress, you will constantly have to reassess. This step is perpetual, but also crucial to your success and coming to terms with the reality of the situation.

Finally, the last letter in SOAP is P, which stands for plan of action or plan of execution. This is how you will set out to accomplish the task that you have previously assessed. Again, this step is also perpetual and flexible, but without proper planning, then you will fail, there is no doubt about that.

So what is planning?

People seemed to often get confused when they try to understand what planning really entails. Planning is not just scribbling some nonsensical agenda onto a piece of loose-leaf paper, hoping you will someday get around to it.

"Planning is a deliberate process with the goal of understanding current circumstances to prepare for future events"

Got it? Good.

But wait! Bad news!

Unfortunately, nobody is willing to help you out…not even your rich grandmother. You have been turned down again and again and again by just about everyone. You have no money and no support from your friends or family. But wait you do have is intrinsic motivation, and you will not let rejection get you down.!No way! You will persist, and you will succeed!

So what now?

Well, if nobody else is willing to do it, you must promote yourself!

Here is what you need to know in order to become an effective, and shameless self-promoter.

1. Build awareness – This is the most crucial component of promotion, whether you are self-promoted or not. If nobody knows who you are, then nothing else matters. You can't try and sell yourself, if nobody knows you exist! You have to get your name out there, and let people know who you are, what you do, and why they should care! Now building awareness is not just about getting your name out there, but also making sure that the customers interpret the information about you in exactly the way you want them to. Most on this will be discussed once we get into positioning.
The vagrants guide to building awareness
Oh you poor vagabond your broke aren't you? Don't worry, I've been there. I was there for a while. But this doesn't have to stop you. Where there is a will there is a way.
Here are a couple of my few favorite methods of building awareness, which require almost no cash disbursements whatsoever.
I
. Social Media
– facebook, twitter, tumblr, bebo, myspace, flickr, linked in, the list goes on and on and on! All of these social media sites are sources of free advertising if you know how to use them correctly. If you are connected to me on any of these websites, then you already know how much I pollute them with content. Notice I said pollute with content, not spam! Will I pump tons of content out on these sites daily; it is still valuable content none-the-less. The next section on creating value will go more into detail about how important it is to release valuable content in order to retain good customers and followers.

II. Youtube – All you need to get yourself on youtube is a half-decent video camera. I personally use a flip video, it cost me only about $100 bucks and the quality is awesome! Youtube is a great way to pump out valuable content and to build awareness. Again, you will understand more about creating "valuable" content in the next section. Here is a link to my youtube channel so that you have an idea of what I'm talking about: Chronicles Of Strength Youtube Channel

III. Blogging – If you don't already have a blog. Get one now! Tons of free blogging sites out there. This is how you can start to establish your credibility. Post stuff of value for your readers, whatever that may be is on you! Then pump your blog through the social media channels. I will write another blog soon, about how to be an effective blogger (kind of funny isn't it)!

IV. Forums – the internet is really just a big popularity contest. So get involved in as many places as you can, and make as many friends as you can. Forums are a great way to let people know who you are and what you are about!

V. Other's websites – Don't be selfish about your self promotion. Reciprocity goes a long ways. If you visit other peoples websites, and get involved there in a positive manner, they will likely return the favor Establish as many solid relationships as you can, and try to get links to your site on other people's websites and blogs. Link backs help substantially with SEO(search engine optimization), so get as many as you can!

VI. Email – One of the best things you can do for yourself is get your customers and followers email. From there you can send them updates, newsletters, exclusive content, etc. How do you obtain emails, or more specifically, the emails of your target market? The answer to that is discussed in further detail in my upcoming ebook, where I reveal the secrets of developing a good squeeze page, so stay tuned for that!
2. Create Value
– This is all about retention. Getting people to keep coming back to you, because you have established a sense of value.

So how do you create value?

Simple.

Create a solution.

What people have are problems. And what people are looking for, are solutions to problems. I discuss this much more in depth in my upcoming ebook, but I'll give you the short version to get you started.

Do not think about selling yourself or a product. Rather think about selling a solution. If you are a fitness expert, then your customers may have a variety of problems, such as being overweight, weak, in poor health, etc. What you have to do, is offer effective solutions to these problems for them. The key word being effective. Nobody will come back if your solution doesn't work…well then it really isn't even a solution is it? Why do people keep buying advil? Because it is a solution, although a temporary one, to their pain. Why do people buy electric drills? Because they have a problem…they need holes, and the drill provides holes. You see, when somebody buys a drill, they aren't really buying a drill are they? They are buying holes!

So find out what your customers problems are, and offer them a solution in order to create value.

Here are a few ways that I have created value to my followers:

Youtube Video Tutorials and sample workouts: In Depth Kettlebell Two Hand Swing Tutorial

Free Daily Workouts: Workout of the Day

Free Ebook on Metabolic Conditioning: Free Metabolic Conditioning Ebook

Training Logs and General Advice: RKC Training Log – Strength and Power Training

All of the above have created a sense of value to my followers. They return to my site because I have offered them solutions to their problems, and in turn, they have become good, loyal customers.

That leads us to my next point.
3. Maintain the "good" customers
Reality check. The customer is NOT always right. There are good customers, and here are bad customers. Believe me when I say, especially as personal trainer and fitness guru, that you absolutely DO NOT want to work with everybody that wants to work with you. There will be people that are simply not worth your time or effort, regardless of the size of their check book.

I will not get too deep into what makes up bad customers, but it's not like they are hard to find. Constant complainers, people who don't pay or never pay on time, trolls, and customers that spread poor word of mouth.

The sad truth is, is that as a professional, and somebody who is claiming to be an expert at something (which I'm assuming you are since you wish to self-promote), then you will always have critics. Whenever you take a clear, solid stance on anything, there will always be people there to challenge and criticize you. DO NOT let this get you down! Rather, let It inspire you, because it is an indicator that you have been drawing attention to yourself. Remember that the biggest threat will always have a target on your back.

There are two methods for which I handle critics and trolls.

1. If their claim is substantial then I may dignify with comment. I will do what is necessary to back my claims, abut should I be wrong, I will admit it. Do not be stubborn if you have been proven wrong on something! Instead, thank the person (assuming the have informed you in a polite enough manner) and correct yourself. Learn from it and move on!

2. If their claim or comment is irrelevant or trollish (urban dictionary the word troll if you are confused by the terminology. Then I will either ignore them or hand them a box of trollhouse cookies and send them on their way.
Now what about the good customers?
Hopefully you should all know the 80/20 rule by now. That rule states that 80 percent of your profits will come from 20% of your customers.
Good customers are invaluable, and you must retain them at all costs.
I buy a lot of my supplements at a local GNC. Now the funny thing is, I can get everything I get there, for at least half the price somewhere else or online. But I keep going back to GNC, because the first time I went there, the owner treated me right. Customer service goes a long way, especially when it comes to establishing customer loyalty.
Here are a few tips to be a customer service pro.
1. Encourage customers to accept new/more information about your service/product. This can be done through incentives (free ebook anyone?) or other sorts of special promotions targeted only for your loyal customers. Make them feel appreciated, and take care of them accordingly.
2. When somebody asks you something, answer them! I am adamant about getting back to people asap. I am constantly replying to emails, comments, phone calls, etc. This way the customer knows that they are a priority to you, and they will appreciate you for that. Remember, reciprocity my friends! Quid pro quo.
3. Know and understand your customer! Know their needs, their wants, their social class, their sex, culter, heritage, etc. The more you know about the people who are interested in you, the easier It will be for you to provide them with a solution. There are many tools out there to track such statistics, and some of them are even free, so you have no excuse to not be digging up as much information about your customers as possible.
Keep your good customers happy at all costs.
So there you have it. I will have another post relatively soon going more into detail about some of the finer points of guerilla marketing, but for now, its your turn! I would love to hear everybody else's innovative, guerilla marketing like tactics. Post what has and hasn't worked for you in the comment section! Post any questions as well. But one last thought…
Remember, that beyond anything else, nothing can take the place of persistence. Not talent, intelligence, or luck. If you want to succeed, you must be persistent. Trudge through the hard times, and eventually you will emerge victorious…
or die trying…