This is something that I've really struggled with for the past couple of years. Ever since I started playing with
metcon
and using these strange kettleball things, while simultaneously minimizing the amount of carbs that I put into my mouth, something really weird started happening…
My stomach region started to transform…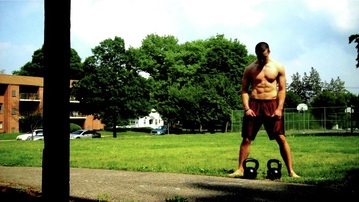 WTF RIGHT?!
Here I am busting my ass trying to get in shape and what do I get? Really defined abdominal muscles and a very low body fat percentage. The joke's really on me I suppose…
Before I had nothing to worry about. These unpleasant looking rivets and valleys were appropriately covered up by layer upon layer of much sexier fat cells.
So where did I go wrong? What could I have done to prevent this disaster from happening? And if it does happen to you, what can you do to cover up those unsightly abdominal muscles, aside from being the guy that always wears his t-shirt into the pool? Well I'm not going to let you be that guy!
I'm going to give you a list of what you can do to prevent this from happening. You'll thank me later, hopefully before you're girlfriend breaks up with you for looking too shredded.
1. DO NOT WORKOUT LIKE THIS!
Metabolic Conditioning is an absolute no no when it comes to trying to keep your ugly abdominal muscles covered up.
Wow looking back I can't believe how stupid I was. You can almost see fat melting right off my body as I work through those complexes. But look, I'm relatively young so please don't hold my faults against me. We all learn through experience right? And I can tell you that my experience has taught me that if I want to keep cellulite on my frame, then I am to avoid metcon work at any and all costs!
2. Don't Pick Up Heavy Things!
This one really took me for a loop. For so long I completely though that picking up and moving around heavy things was good for you…that was until I started losing my precious body fat and building repulsive muscle mass. Gross.
Oh, and at all costs avoid any sort of heavy deadlifting or squatting, as they are both incredibly metabolically demanding. Trust me when I say that if you want to stay lovable and round, you're much better off doing some sort of Zumba or step aerobic class.
Well try try again until you succeed I suppose…
Here is another example of exactly what not to do when you're trying to stay portly and attractive to the opposite sex.
3. Do Not Restrict Carbohydrate Intake!
You're probably all shaking your heads right now and wondering how I could have made all of the classic mistakes when it comes to trying to keep your inflated and whale-like physique.
Do I have no education whatsoever when it comes to maintaining corpulence? I can only hang my head in and shame, accept what I've done wrong, learn from it, and move on. I just hope that you can all learn and take a few things away from my mistakes…
So here's what I got out of this one. Apparently this silly transport hormone insulin helps to make you fat, especially if you're sedentary (which I should have been all along!). So the joke really was on me when I had this crazy idea to control and manipulate my insulin levels by targeting and restricted my carbohydrate intake. I'd do some really stupid things like consume only 100 grams of carbs a day, and target them solely around my workouts. Well ladies and gentleman, I learned the hard way when I dropped well into the single digit body fat percentages that I had made a terrible mistake. But now I can now tell you something with full faith and confidence, and that's if you want to stay fat and actually have girls talk to you – then I beg you, do not follow my Concentrated Carb Dosing Regimen.
Follow these three simple rules and I promise you will never have to deal with offensive and deplorable abdominal muscle definition ever again.
May your fat be with you –
Pat