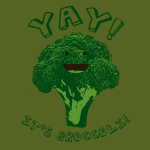 The ancients knew this—the idea of yin and yang, or warming and cooling—and how it applies to diet and exercise. When I say the ancients, I want to be clear; I speak predominantly of the ancient Chinese and Indian cultures and not my mother-in-law; she came much later, around the Civil War.
The objective is to strike balance, or to eat and too exercise like Goldilocks—not too hot, not too cold, but just right.
Some foods warm us up. Or, in more recent terminology we could say they are acid forming. These include, mostly, proteins and grains.
Other foods cool us down. In other words, they are alkalizing. Fruits and vegetables constitute these foods, very generally speaking.
As well some forms of exercise warm us (hard, intense, destructive) and others cool us (soft, tranquil, restorative). Neither is right, neither is wrong. They both have their proper place, and are both equally beneficial in the RIGHT dosages.
As a general rule, you ought to have more cooling than you do warming foods and activities. This should be pretty obvious—SHOULD BE—but isn't, or else I wouldn't have to bring it up.
Low-intensity exercise should be engaged in more regularly and frequently than high intensity. And you should eat more leaves and berries than you do goose livers.
Many people do the reverse of what is right, as is only the naturally inherent, and all-too-human thing to do; and then wonder why their bodies are wrecked and don't smell very good. This is the result of too much yang, and not enough yin.
If you think you're "too hot", here are a 3 ways to cool the system down.
** 1. Lower the VOLUME of high-intensity exercise (you don't have to lower the intensity at first, just back off on volume) and increase the VOLUME and FREQUENCY of low-intensity exercise such as brisk walking, and general mobility work.
** 2. Refrain from eating as many animal proteins (and grains, too) on the days you don't need them—meaning, the days you aren't engaging in high-intensity exercise. When you destroy your own flesh, eat flesh. Otherwise, eat leaves. If you wish to maintain a higher protein intake, fine, just switch it over to spirulina for the day.
** 3. Fast. Fasting helps to restore proper yin/yang balance to the body. Even a short-lived fast (up to 16 hours) accelerates detoxification, increases insulin sensitivity, and surges growth hormone.
As I said in yesterday's post, being extremely competitive, and balls-to-the-walls intense in your daily exercise routine is a game reserved for children and the very foolish.
The more difficult, worthwhile, sustainable, and intelligent thing to do is to strike and maintain a proper balance of yin/yang, and not let your ego get in the way of making progress.
– = +
–       Pat
PS – Three spots left for our fitness minimalism retreat. CLICK HERE to make one of them yours.