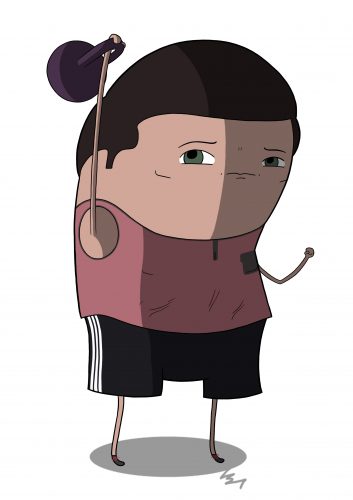 Picking the right sized kettlebell, that is what we will talk about today. Go ahead and pull up something to drink. We'll cover all the options for you, my sweet.
So let's assume you can only get one kettlebell, because you spent all your money on a new set of sofa cushions. If that is the case, the "general" starting point is a 16kg for men, 8kg for women. That's 35lbs, and 17lbs, respectively.
Anyway, with this weight, you should be able to swing it, squat it, and press it. If you can't press it, go one size lighter. If you can press it five times already, go one size heavier. "One size", when talking about kettlebells, usually means a leap in around about 4kg. For reference, that's about the weight of one medium sized platypus.
But let's pretend you haven't spent all your money on a new set of sofa cushions, because what does it matter if your spouse is happy or not. Then what? Well, then I would consider getting a set of three kettlebells. For most men, having a 16kg, 24kg, and 32kg would be pretty convenient. And for women, an 8kg, 16kg, and 24kg. This way you have more load for the lower body (squats and swings) and less for the upper and more technical moves, like pressing or snatching.
OK, well that's the end of this post.
Strong ON!
– Pat
PS – You might also enjoy my Inner Circle (CLICK HERE) because having the right size kettlebell isn't worth a whole lot without the world's most amazing, fat-burning workouts!