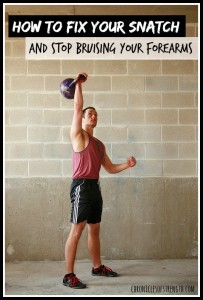 Yesterday somebody asked what they can do to stop the kettlebell from flipping over and banging the forearm when snatching. This is a very common issue. In fact, it's never not seen when a person first starts learning to snatch a kettlebell.
So there are a couple of things you can do to lessen the learning curve of the snatch, avoid battering your forearms unnecessarily, and to make the movement more easily attainable. However, there will always be SOME banging on the forearms when you start to learn the kettlebell snatch. That is part of the learning process, as falling is a necessary element of learning to walk.
With that said, you should take every shortcut available to you, and to practice the snatch very deliberately.  Here are some tips:
Master the swing, one arm swing, and clean FIRST
Learning the swing and the one arm swing will teach you the essential force production needed to get the bell over head. Develop your hinge with the two hand swing, then develop your power and grip strength with heavy one arm swings.Next, learn the clean, because the rotation of the bell into the forearm during the clean is very similar to how it works in the snatch.[You can learn the swing HERE]
Loosen your grip
Holding on to the bell too tightly will result in a slow rotation, and the bell flipping over onto the wrist. What we want, is a quick and seamless transition, and for the bell to roll gently around the forearm.Loosening the grip can help achieve this. Hold the bell tight enough so it doesn't escape from you, but loose enough so that the handle can rotate freely in your palm.
"Spear" your hand through
Here's a cue I heard a while back from one of my old coaches that really helped me to get it: "Imagine you're sitting in class and the teacher asks you a question you really know the answer to."The point being that you want to shoot your hand up, and spear through the bell. In other words, get there before the bell does.
Learn it in reverse
The easiest way to teach your self the snatch is from the top down. Work the press, achieve a good lock out, and practice throwing the bell into your stomach, and then moving the hips out of the way at the last second.I like the cue of "throwing it into your stomach", because this will teach you to keep the arch of the bell tight, and not cast it too far out in front of you.Once you own the movement in reverse, it's simply a matter of reversing it.
– Pat
Here is a video and a workout: