How to stop tearing your callouses. Handcare for kettlebells.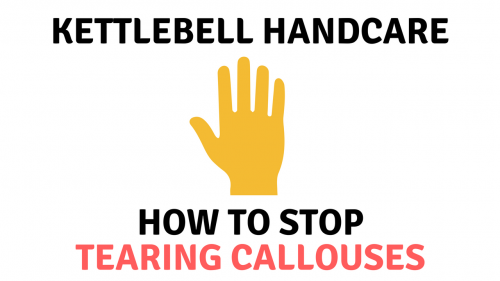 Except for people who enjoy having hands that resemble raw hamburger meat, torn callouses are no fun for anyone. Because torn callouses not only result in a loss of training time, they can also kill you.
Here's the thing: I knew a guy once who tore a pinky callous, and two days later, he was found dead in the street. Not from the torn callous. He got hit by a Honda prelude. But you can't say these events aren't somehow related. I'm not really one to believe in such "coincidences."
So if you enjoy life, and if you enjoy training with kettlebells, please pay close attention to my face in this upcoming video, but not too close attention, because there is still that annoying pimple on my forehead. That's why my next video will be on how to get rid of annoying pimples–as soon as I get rid of the pimple.
How to STOP Tearing Callouses
The Short Version
Step 1) Master the handling of the kettlebell.
Skip to 11:35 in this video to see how to properly position the handle for moves like cleans and snatches for preventing callous tears.
This is important: The key, critical element in preventing callous tears is GOOD TECHNIQUE. No other tips or tricks will be able to make up for not knowing how to handle a kettlebell.
Step 2) Keep your callouses smooth.
Grizzly callouses are more likely to snag and tear.
So take the time to file them. That doesn't mean file them off. Just keep them smooth.
I recommend using either an emery board or a stone made of lava(!),  and giving them a good once over after you shower.
Step 3) Lotion?
Lotion isn't a bad idea, so long as you're not applying it before you train. I'm a fan of corn huskers lotion, which seems to help with irritation and chapping. It's also oil free.
Step 4) Chalk?
The problem I see with chalk is people often rely on chalk rather than strengthening their grip or learning the right technique. If that's the case, you shouldn't use chalk.
Chalk can also increase adhesion and the likelihood of tears. So, another reason to not use chalk: It isn't as forgiving.
So use chalk as a performance bonus, but as not hand care.
The final say: This post really could have just been about technique. Points 2 – 4 mean nothing if you don't have the right technique. Nothing. NOTHING, you hear me?!
…
Strong ON!
– Pat
PS – Be sure to subscribe to my Youtube Channel for more delicious videos, OK guys?
PPS – Got 101 FREE Kettlebell Workouts you might also be interested in.