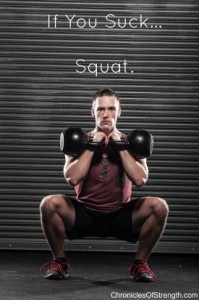 Recently a piece on training variety flittered across my desk, and I caught just the tail end of it. In brief, a person should constantly vary their exercise regimen to avoid plateau, is what this author said.
Then again, at Paleo (Fx), I heard another fellow preaching the same gospel. He rambled on and on, mostly in circles, and worked his conversation piece like a sawmill.  "Variety", he said, "is what tricks your body into growing."
What do I think? Well, you shouldn't allow yourself to believe any such nonsense as that, is what I think.
The problem I take with variety is it's easy and unproductive. When things get tough, it's tempting to switch it up, I get it, and I've been guilty of it, too, Lord knows. But it's not the right thing to do. Because when things get tough, what that means, really, is finally you're at the point where all the newbie gains are realized, and you can actually start to get a little bit good at something, and make yourself distinguished, and not suck.
When I was sixteen—I'm 17, now—it was the muscle-up. I wanted it so bad. Well I sucked at it and I sucked at it, all day long and all night, too. I sucked Monday to Friday, and clear through the weekend. And I just went right along my merry way, sucking, sucking, sucking, until, finally, one day, I didn't suck anymore. There was no "secret" to the suck. I had a few fancy progressions that were helpful, sure, but the key point is I wasn't afraid to get out and suck like a weasel; to work the suck, and to flaunt the suck.
So I want you to get out there and suck, and suck, and suck until you just can't possibly suck anymore. Because that's how you get good at something, by sucking it to death; and every time time you suck, know you are literally sucking the suckiness out of yourself, ounce by ounce, day by day; and by and by, that pool of suckiness will be all sucked out and dry, and so the only thing that will pour out of you then, is greatness; and it will pour out like water, too.
 How to Suck Your Way Into Strength
Let me give you something to suck at.
1. Pick 5 Lifts That You Suck At
A push, a pull, a hinge, a squat, and a "core". You may not "suck" at the lifts, inherently, but you will suck, eventually, once it gets heavy enough.
Example:
Military Press
Pull Up (Weighted)
Deadlift
Front Squat
Hanging Leg Raise
2. Do 10 Reps a Day, and Try to Make Them NOT Suck
Two sets of five, five sets of two, one set of ten, ten sets of one—whatever; just go heavy SOME of the time, and suck.
3. Suck First, and While Fresh
We want our suck to be purposeful, and useful. Don't let fatigue get in the way of your suck.
Questions? Leave them in the comments, and we'll chat.
– Pat
PS – I'm looking for few people who want to come and test out a cool new pull up protocol. This is NOT private online coaching.
Simply, this is a very specific "minimalist" pull up protocol that I want to "test" on a few people 🙂
If you are male or female, and want to either 1) get your first pull up, 2) move beyond 5 pull ups, or 3) move towards the one arm chin up, then this is for you.
So here's the deal. If interested, email me at PatFlynn@ChroniclesOfStrength.com with the subject line of pull ups, and I'll get you the details (NOTE: If you already requested to take part in the "Vagabond" program, you're all set–you will get this, too, and you don't need to email me again). And because it's not private coaching, I'm able to make it really affordable. It's a 3-month program, however, and pretty tough, so serious folks only. Deadline to get in on this is Friday.