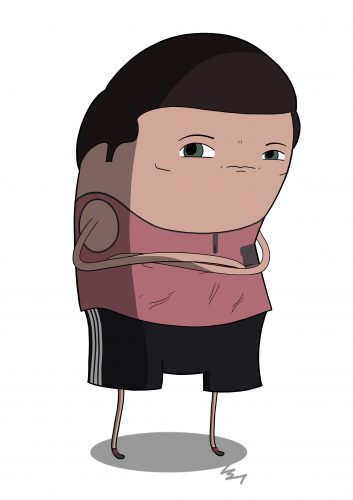 Last night, I read a book that left a huge, red mark on me. It's called Turning Pro by Steven Pressfield, the same guy who wrote The War of Art.
Turning Pro says you can live your life either as an amateur addicted to distractions, never following through on what you say, or a professional, someone who sits down and does the work. I get it. Because most of my life I was an amateur (and in many ways still am). I didn't work very hard, and would come up with every reason why to quit.
When it comes to anything, and especially when it comes to health, people are mostly amateurs. They start one week, stop the next. They're addicted to food, drugs, sex, etc, and the quick fix wins out over the long haul. Has this ever happened to you? If so, welcome to being human.
I didn't become a pro with regards to fitness and health until college, when I had to make a couple of hard decisions. No going out with my friends, no beer and pizza every single night on the weekends. I'd go to bed by nine and wake up at 4am to workout. I taught 21 classes a week and trained people in between. I also started this website.
And I didn't became a pro in writing until I had finished my first book, I think. That was the first time I had completed such a menacing project. It was terribly painful to do. I wanted to quit multiple times, and at one point, threw a fork at the window. But the publisher, thank the lord, paid me in advance, so I had no choice. I had to finish.
Being a pro (according to Pressfield, and I would happen to agree) doesn't mean getting paid, necessarily. It means doing your best work, realizing your potential, and living up to something. Being a pro is shunning distractions and temptation and addiction. Being a pro is working your shit.
It's not about being perfect or rich and famous. It's about finishing. It's getting up every day to do the work, and doing the work every day you don't want to. That's what professionals do – they show up.
Turning Pro is a short book and hard to ignore. It's inspired me, and I hope it inspires you. It has also made me realize more about what I do. I write programs for people who are Turning Pro. Because Pressfield said a professional routine should be minimalist and no distractions. You get the plan and you work the plan, over and over until sometimes good pops out.
That sounds like KettleBody Blueprints. That sounds like Pocket Sized Workouts. That sounds like just what I want to do with my new Living Minimalist Mentorship – take a handful of people, and get them to Turn Pro.
I've been thinking about where in my life I can pick up the slack, still. I've identified two or three areas. Music is one. I'm great at starting a project on guitar and pulling the pin about 98% of the way through. I used to do the same with writing, until I Turned Pro. Same with working out. I just haven't (for whatever reason, be it fear or resistance) made the same commitment with music.
What amazes me is how discipline and progress never carry over. You can Turn Pro in one area and be a total has-been or never-was in another. So I'm thinking it's time to fix that.
With me?
– Pat
PS – Would love to have one reading recommendation from you in the comments.