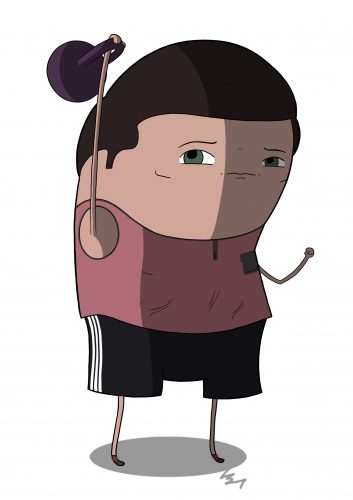 I've been thinking a lot about motivation lately and how to get it. We often have large aspirations with limited willpower. The days are long. There is much to do. And… hold on, I think… yeah, Bruce Campbell just walked in. Is that possible?
So, it looked like him – gray hair, golf shorts, wide smile, even the Hawaiian shirt – but it wasn't him. I don't know who that guy was. If I had to guess, an accountant on his way to Honolulu? Probably his first real vacation in years, too, poor sucker, after his wife left him and took everything in the divorce. But did he deserve it? Who's to say. I'm not one to make assumptions.
When you think about it, the best plans in the world aren't worth a whole lot if you don't have the motivation to do them. We all know we are capable of being truly fantastic and amazing. So, what gives? Why haven't we gotten the look we want, written our novel, launched our start up, classified every bug in the world on one gigantic piece of cardboard?
(By the way, I'll be talking about motivation on the business side a little later. If you want to join the conversation, CLICK HERE.)
I think the answer comes down to having the courage to do away with distractions. When we eliminate Facebook and Twitter and texting and leaving our desks to get another glass of water, and doodling, and texting, and excuses and Facebook, the only thing left is our work. And what a beautiful thing that is, work. When we do it.
What I've learned is it's hard to get motivation to come by without proving you are worthy of her acknowledgment. You have to show up. You have to get your ass in the gym, practice your arpeggios, plop your butt in the seat and write and write. You have to do this day in and day out, for six or seven years, by my estimation.
Because then the mystery is removed, and the muse arrives. Motivation is a thrall to good habits.
Strong ON!
– Pat