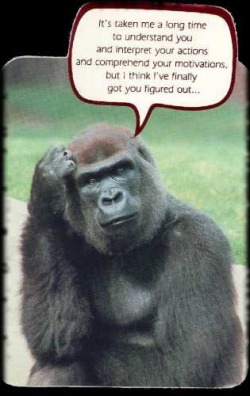 Why do customers make purchases?
Well it really ain't no riddle man…
Customers make purchases in order to satisfy needs.
And as I said in my previous self-promotion post; all that customers are really looking for are solutions. People have problems (seems like we have more and more problems everyday!). And people want solutions. If you are able to offer an effective solution to a problem, then you are already ahead of the curve. But offer any old solution is not always enough, as you must offer the most appropriate solution for your customer. And that is why it is incredibly important for you to know your customer, so that way you may position your product/service as the most appropriate solution for them.
Let's quickly analyze the steps involved in a customers purchase making decision
1. A problem arises
2. The search for a solution begins
3. Possible solutions are evaluated
4. A decision is made and a purchase takes place
Now let's put all that mumbo jumbo into some context.
Say your twenty-two years old, a recent college grad, and are just starting what seems to be a very exciting and promising career as a bigwig accountant at some bozo firm. You are out celebrating with your friends one night, and you meet a really smoking hot girl. You may not be the best looking candidate at the bar, after all you are an accountant (I'm an accounting major so I'm allowed to crack such jokes), but after you elaborate on your prestigious Ivy League education and great potential for future earnings, she decides to give you a chance. Things work out and you two get hitched. Now falling into one of the many clichés of marriage, it doesn't take too long for both you and your wife to physically let yourselves go. It's about six months after your wedding date, and you've both have acquired at least 10-15lbs of extra lovin.
A problem has arrived. The problem is a horizontally gifted (Yes, I coined that term) marriage.
You and your wife have recognized this to be a problem, as it impedes on your long-term goal to spend many, many happy years together. So you set off to search for possible solutions.
Your wife suggests hiring a personal trainer for the both of you, while you think that just joining a health club will do the trick. You two discuss your findings and decide that a third possible solution exists and that would be to both join the health club and hire a personal trainer there.
So after evaluating your options, you two decide to opt for the third solution of both joining the health club and hiring a personal trainer.
So what factors led to this decision? Why is it that this couple decided to make the decision that they did, while other potential couples may have just as likely chosen any of the other alternatives? There are many, many factors that play into a customers purchase making decisions. Everything from social class, to culture, personalities, believes, attitudes, peers, and even occupation all play a role in a customers purchase making decisions.
My goal with this post is to help you understand what it is that you need to look at in order to understand your customer. Because it is through understanding and knowing your customers that you will best be able to satisfy their wants and needs. And if you are able to effectively and consistently satisfy a customers wants and needs, then that customer will become quite loyal to you…assuming they are a good customer (Yes there is a such thing as a good and bad customer, but that topic is for another post.)
So, to be a truly effective marketer it is crucial for you to understand how and why customers make their purchase decisions.
What I am going to share with you today is what I have learned through my years of formal marketing education, but much more importantly, what I have learned through my own experiences. On the topic of marketing I have read many great books, been to many lectures/seminars, but nothing takes the place of all the failures and successes that I've experienced on my own. Each and every failure is a learning experience.
Keep in mind, that while on the surface I am in the field of strength, conditioning, and personal wellness; behind the scenes I am very much a marketer. It surprises many people when I tell them that my major is not exercise science or physiology, but rather a dual major in finance and accounting.
Another fact you may or may not have known about me is that for over two years, I worked seasonally as a car salesman (and quite an effective one if I may toot my own horn…get it?) for the top Chevrolet dealership in Wisconsin. During my time there, I learned some of the most brutally effective selling and marketing techniques there are to know. And while I made a killing selling cars, it simply was not my passion, and if you know me, then you know I am adamant about chasing after what you love in life, not what writes you the biggest check.
Anyways, enough about me, let's get down to it.
So what is it exactly that influences a customers purchase decisions the most?
As far as influences go, there are two types: internal, and external.
If you wish to truly be able to satisfy your customer's needs(and I think you do), then you must understand your customer. And in order to understand your customer, you must understand what influences their decision making process.
So now let's dissect the internal and external influences that are most likely to affect a customers purchasing decisions.
Internal Influences:
Perception: Perception is how we consciously and subconsciously process information. It is how we view the world around us. But it is also how we view ourselves. Self-perception plays a large role in customer purchase decisions.
Each and every personal has a "perceptual filter" that is unique to them. In order to effectively influence a customers purchase decision, you as a marketer, must learn how to position yourself in such a way so that you are filtered appropriately through a customer's perception. The simplest way to do this is to make it very known how your product/service will provide a solution to your customer's problems.
Education: A person's knowledge undoubtedly influences their purchasing decisions. Knowledge is the sum of all the education and experience owned by a person. As a marketer, the key to obtaining new customers and retaining old ones is getting people to be open minded and to accept new information about your product. This can often be a tricky task, and again is why proper positioning is critical.
Self-Construction: Also known as self-concept or self-perception; this is how people assess themselves. It includes an assessment of their personality, physical attributes, lifestyle, hobbies, skills, talents, etc. People often make purchases to support their self-construction, and will rarely; if ever make a purchase that contradicts their self-perception (How often do you see a vegan at a butcher shop?). As a marketer, if you can see how a customer perceives himself or herself, then you will have a great advantage if you are able to position your product/service in a manner that supports their self-concept.
Motivation: Motivation is a huge internal influence when it comes to a customers purchase decision-making process. If somebody is motivated to achieve something, they will often encounter a problem along the way, and will seek solutions in order to accomplish what it is they are set out to do. For example, say you are motivated to get fit. Great! That's fantastic! Now what? Well, you need some sort of a solution. You could join a health club, invest in a personal trainer, purchase a kettlebell, etc. There are a variety of possible solutions, and depending on your level of motivation, some may be more enticing than others. However, do not confuse motivation with involvement, which is about how much effort a customer puts into making a decision. Again, as a marketer, you will have a greater advantage if you can find out what is motivating your customers.
Role in society: A customer often makes purchases to support their perceived role in society. A person's roles may also vary, as their role in their personal life may be quite different than their role in the workplace. Figure out what role your customer plays and figure out how your product/service can be of a benefit to it.
External Influences:
Culture: No external influence has as much of a profound impact on a person's purchasing decisions than their culture. People often share beliefs, attitudes, and behaviors. And that is exactly what culture is; the shared behavior between the members of a society. If you want to know your customer, then it would be a considerably wise decision to first try and understand their culture.
Social Class: This may be financial, educational, or occupational. Depending on what social class a potential customer belongs to, will greatly influence their purchase decisions. It makes sense doesn't it? A vagrant, living under the I-95 overpass, will probably not be making a Lamborghini purchase decision anytime soon.
Social/professional groups: Similar to culture but on a smaller scale. These are the groups that people often feel the need to associate, or even disassociate themselves with. Understanding the group(s) that your customer belongs to crucial for a marketer's success.
There you have it. Not all that complicated right? Well, it's easier said than done, as actually prying out such information can be quite tedious. But stay tuned; I will have another post up soon enough some of the most effective techniques for squeezing information out of potential customers.
Ok cool. See ya then. Now go ponder what you've learned over a few sets of double snatch to press.
– Pat Flynn RKC