Marcus Aurelius on Living the Good Life – Applying Stoicism to the Everyday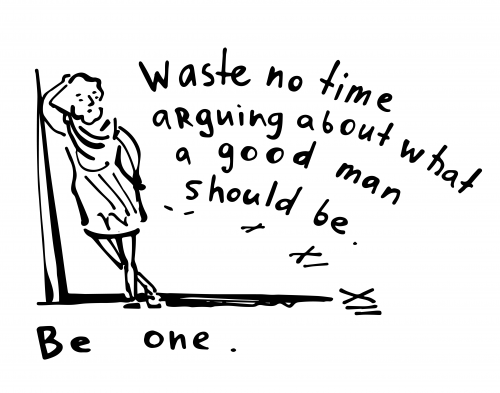 It should be so easy for a Roman Emperor to talk on living the good life. He is, after all, a Roman Emperor. Feed me grapes, give me wine! But Marcus Aurelius wasn't you're everyday, pope-hatted ruler. He was a reflective man, of insight and purpose and restraint. He didn't hold onto the power he was given, he didn't take it for granted–or so it seems.
You may have heard of Meditations, or Marcus Aurelius's set of reminders to himself. Some would call Meditations a book on philosophy. I would say Meditations is more a book of philosophy, as Aurelius does not attempt to describe Stoicism or make a school of it. He just gives examples of how to live in a way that causes gratitude over grief, joy before sorrow. Some have called Meditations a "design for life."
The beginning of Meditations is perhaps the most instructive, as Aurelius recounts the lessons learned in youth.
"From Diognetus, not to busy myself about trifling things, and not to give credit to what was said by miracle-workers and jugglers about incantations, and the driving away of demons and such things; and not to breed quails for fighting, nor to give myself up passionately to such things; and to endure freedom of speech; and to have become intimate with philosophy; and to have been a hearer, first of Bacchius, then of Tandasis and Marcianus; and to have written dialogues in my youth; and to have desired a plank bed and skin, and whatever else of the kind belongs to the Grecian discipline."
I don't know if I would have ever overcome my quail fighting tendencies if somebody hadn't handed me this book, and what consequences would have come from all that, but I do know this: You must admire a person who can write a sentence long enough to see you through to a fresh pair of underwear. Also, Diognetus is a strong name.
Another example:
"From Alexander the grammarian, to refrain from fault-finding, and not in a reproachful way to chide those who uttered any barbarous or solecistic or strange-sounding expression; but dexterously to introduce the very expression which out to have been used, and in the way of answer or giving confirmation, or joining an inquiry about the thing itself, not about the word, or by some other fit suggestion."
Don't be a Grammar Nazi. Got it.
"From Alexander the Platonic, not frequently nor without necessity to say to any one, or to write in a latter, that I have no leisure; nor continually to excuse the neglect of duties required by our relation to those with whom we live, by alleging urgent occupations.
In other words, stop pretending to be busy, just to get out of things.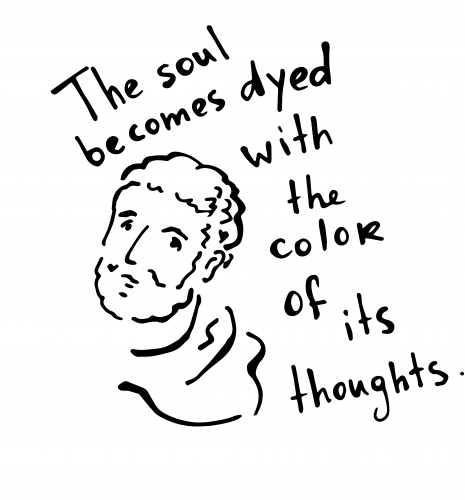 I could go on and on. And so could he. But here are the main points, as I'm to understand.
All fact is opinion.
All truth is perception.
Use precision of language.
Don't idle your engine.
Reason, good.
Humility, good.
Vices, bad.
Observe your thinking.
Untangle your emotions.
Avoid quail fighting.
Forgive trespassers.
What is, is.
What isn't, isn't.
Live simply and want less.
Study philosophy.
Write discourses.
Don't place bets in The Coliseum.
I think you'd be better off grabbing the book, at this point, to gain a deeper understanding of Stoicism and the musings of this Last Great Emperor of Rome.
As a side note, typing passages from books into Microsoft Word improves retention. So I often copy works I enjoy onto my computer, as an exercise for writing and remembering. And after I finished this process with Meditations, I thought I might produce my rendition of it, since this book has meant a lot to me, and could mean a lot to you.
So I wrote an introduction, created illustrations, a new cover, etc. So if you've enjoyed this post, you might enjoy the version of Meditations with my introduction, illustrations, etc.
– Pat