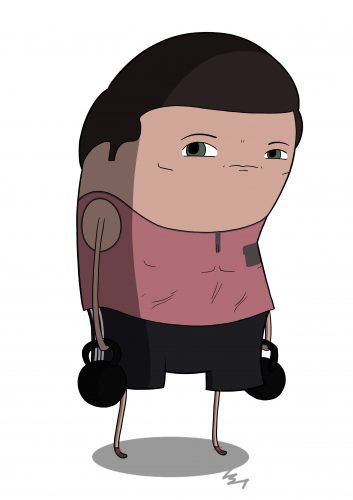 In The War of Art Steven Pressfield says struggle points to our true calling. He says "Resistance is Infallible." If something is hard but promises growth (and instant gratification delayed), then we owe it to ourselves, and the universe, to pursue it.
Working out isn't hard. But wanting to workout (sometimes) is.
Remember when you started? Either you were excited or you complained about it. If you were excited, at some point, that probably fizzled out. Things got tough, progress stalled, and you wanted to quit. This has happened to all of us.
And if you weren't excited (which was me – doctors orders), then you had to do something to convince yourself otherwise. Maybe you read a few books on motivation, or watched a couple of inspiration videos. Did it work? Did it last? And how are you doing now?
I wish I could tell you there is a hidden secret to motivation that only me and a few other people like Tom Hanks know. But the fact is motivation is a muscle, like love. We need to exercise it everyday.
Here's how:
Set a daily intention. "Today, I will…" (Do 100 swings, walk for 20 minutes, drink more water, etc.)
…
Write your goal on Post-It-Notes and stick them on the fridge, in the car, on your desk at work. (On the front of my laptop: "Shut up and write. Then, after that, shut up and workout.")
…
Put skin in the game. Hire a coach, set stakes.
…
Read (or watch) something that daily inspires you. (I'm working on a new series for this, called Motivated Workouts. Join my email list?)
…
Expect Resistance. Know it will be hard. And…
…
Commit to 2-minutes everyday. (The hardest part is to get going and procrastination our worst enemy. "2-minutes everyday" is the secret to getting started.)
Remember: Motivation is the weapon we use to overcome Resistance and beat the odds. Make a habit of it. Flex the muscle. Don't give up. Be a warrior. Drink coffee. Pet dogs. Hug trees. Wear your seatbelt.
Strong ON!
– Pat