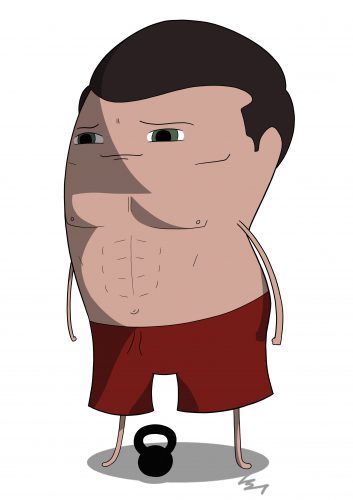 So I went to workout in a gym I used to belong to in the 8th grade, since I'm back in Wisconsin and can't help but reminisce. My friend and I would lift weights before wading around the indoor pool and taking turns on the water slide, going down sideways and getting stuck somewhere in the middle to see if we could freak the lifeguard out. I was the tubby one, so I'd go in with my shirt on. Always. Before I moved, that was my last memory of going to that gym.
It's been over a decade since I went into that pool with my shirt on and yesterday me and Christine took the kids. This time the story has changed. I'm not overweight. My abs are pronounced and people were looking at them. My chest rounded and rock hard. One kid – didn't catch his name – said I looked like Superman, if I were handsomer. I think he meant if he were handsomer. Kids are always getting things switched around.
Either way I felt good about myself. Not because of the attention I was getting but because of the effort I've put in. This was one of those times I could compare "then and now", and I've come a long ways – I could see that.
There's never any shortage of talk on how looks don't matter, how they're not important, and I get it. It's our soul that counts, right? That thing that floats around. Yes, it's true: you shouldn't pick who you love/marry/feel-up-on-carnival-rides based on body shape alone. Because at some point that ride is going to end and you just aren't going to want to talk about Game of Thrones (no offense) or how their cousin did a bunch of drugs with Bruce Campbell at that one random party in St. Petersburg, because you don't care about smoking weed, never really have, and think Bruce Campbell is B-list for a reason.
Look, Evil Dead is fine, but it's not my favorite movie.
The real worth, I think, in achieving your dream physique is not having abs. It's the work it takes to get them. Nothing good comes easy.
I remember when I saw my first ab popping through, after years of being overweight and poked fun of, just budding up through that last thin layer of adipose, like a turnip. Nowadays, I do not care a whole lot (I still care some) about taking my shirt off around other people. I'm married, content and don't need anyone's approval – except Christine's. But I will not get hers – I will not get hers ever, I don't think.
But reaching my goals showed me more was possible. It changed my mindset. That's important! I didn't make a new mindset one day meditating; I simply slogged through with my old, sucky one for a while. It wasn't until I started reeling in wins that I gained confidence and began to believe I was worth investing in. Before that I was faking it, pretending. I was a hack.
Now I am not discounting how good it feels when other people admire your body and what you can do physically – that is a real thing. Don't let anyone make that seem small or light to you. When you work hard and earn something you have every right to relish in that reward.
But when I talk about getting a six pack or a flat stomach or your first pull up or pressing half your bodyweight – know there is at least some ((deeper)) meaning to it. I believe these accomplishments will make you a better, happier person not for what you gain, but for what you give up. Having abs won't change your life. But having the discipline to get them will.
– Pat
Pocket Sized Workouts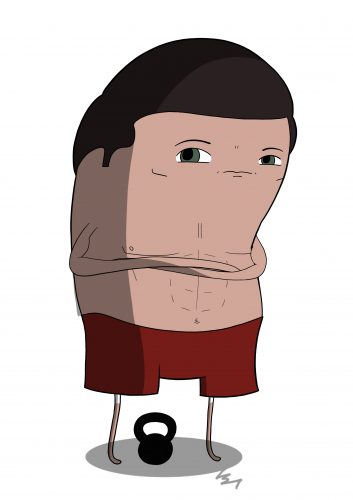 Pocket Sized Workouts is like having a personal trainer in your inbox. Weekly, time-crunched kettlebell workouts sent every Tuesday, made freshly by me (Pat!). Plus, a 7-day rapid fat loss guide, to give you a swift kick in the rear. And also abs.