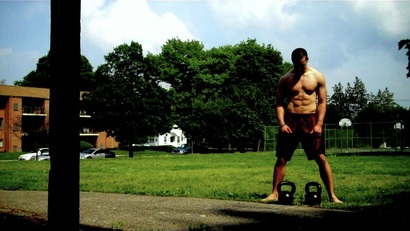 You Got Problems? Well I Got Solutions!
The Final Version of Dragon Gym's Introduction to Kettlebell and Barbell Strength Training is available now and it's a real monster!
The final version of the eBook includes:
A

complete breakdown of the core 6 kettlebell movements

including the swing, squat, turkish get up, snatch, press, and clean. Learn the important nuances of each movement and drastically refine your technique.
In depth tutorials of

double kettlebell movements

including double swing, double clean and press, front squat, and more! It's time to take your training to the next level with double kettlebell movements.
How to

safely and effectively

perform the

"Cardinal Six" strength movements

including the bench press, military press, back squat, deadlift, pull up, and bent over row
Two

strength and conditioning programs

including a three day split and four day split
Pictures of each movement, in depth video tutorials, and quick technique reference videos
What You Will Learn From This eBook:
Proper body mechanics

to ensure that you are able to complete each and every movement with

confidence, strength, and safety

.
How to

bench press without wrecking your shoulders

and how to

deadlift without destroying your back!

How to

move and operate

like an

athlete

.
How to become as strong as Hercules through diligent practice, and as hard, mentally tough, and conditioned as a Spartan through

merciless conditioning protocols
But What This eBook really offers are comprehensive solutions to common and pesky fitness problems. The keys to fat loss, strength gains, performance enhancement, adding lean muscle mass, become more flexible and mobile, or a combination of any (or all) of the above can be obtained through this eBook!
This eBook is over 130 pages long; with no fluff, filler, or silliness. The price is $14.99. Enjoy!
Introduction to Kettlebell and Barbell Strength Training

A Solo-Training Primer for Tae Kwon Do and Other Traditional Martial Arts

Look, if you are a martial artist then you need this eBook. It's really as simple as that. My good friend, proud fellow American, and fifth degree black belt in Tae Kwon Do has been practicing Tae Kwon Do and Hapkido for over twenty years. He has been on the forefront of integrating kettlebells into martial arts programs for years now, and he has finally decided to do the martial arts world a favor and make his simple, yet incredible effective training methods available to the world.
If you want to drastically improve your striking power, conditioning, and mental toughness then this eBook is for you.
A simple guide to give the traditional martial artist a competitive edge in the training hall. The price is $14.99. Enjoy!