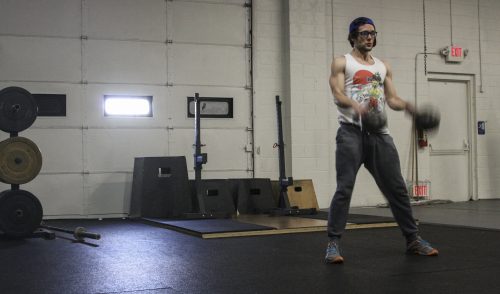 Everyday I get messages from people who are just starting out in fitness. I think it's great. Great that people have taken such a fascinated interested in working out, eating healthfully, and wanting to making themselves feel better. And most of the time I get questions like, "What would be a good workout for me?", or, "Is there a diet plan you recommend?"
Now I see a lot of coaches laugh at these kinds of questions. They think they're simple or naive to the point of being offending. But I mean, give me a break. Like you know everything, dude.
And let me ask you something: When's the last time you had a "smart question" on a subject you knew nothing about? Recently I asked a friend of mine how firefighters extinguish flames at the top of a skyscraper. Was that a dumb question? (Don't answer that.)
The truth is we should be celebrating anybody who has successfully found their way to asking any questions related to health and fitness, no matter what they are. And while I agree these questions are somewhat vague and may not always fetch the most helpful answer, at least they're a start. So what I try to do is explain that fitness and health, fundamentally, are a matter of principle. And if you can understand the principles, then you can figure out exactly what it is you should do.
So here are three of those principles, for both anyone starting out, and all those in need of a reminder:
1. Consistency > Intensity.
"Little and often over the long haul," says Daniel John. "Always something is better than all or nothing," says John Berardi.
It's about the big picture here, folks, and I've seen it again and again. 100% adherence to a fitness program that is only say, 50% "difficult" will bring 1000x better results than 50% adherence to a fitness program that is all-out, balls-to-the-walls, take-no-prisoners, can't-walk-the-next-day, maybe-have-a-conversation-with-God-in-the-middle-of-it grindfest. Hands down, every time.
2. Any Diet Can Work.
Look around and you'll find pockets of people all over the world thriving on various, countless ways of eating and living. Some are low carb, others eat mostly only fruit. There are vegetarians, omnivores, carnivores, all doing fairly well for themselves. They're mobile, they're lean, they're perky. And they're pretty darn hard to kill.
So ignore nutritional dogma, and stop searching for the ideal way of eating, because most of us would have an easier time locating Sasquatch than finding the Perfect Human Diet. Rather, understand that any way of eating can work so long as it 1) controls calories, 2) doesn't give you hives or a yeast infection, 3) offers a convenient and practical method of sustaining yourself.
3. Repetition and Resistance.
The final secret is to fully grab hold of the idea that strength and skill come from Repetition and Resistance. You get better at what you do the most of. And you get stronger by adding weight.
Weight, however, is metaphorical. So it doesn't *always* mean using the next heavier size dumbbell, or finding a steeper hill to climb. (Though it certainly can mean that.) When we increase Resistance, we're talking about making things harder as we go. Adding challenge. Not getting overly comfortable or complacent.
Because if we want to develop our competence, we need to overcome obstacles of ever-enlarging altitude. But we also need to find our confidence, at first. So don't start with an intolerable amount of weight. Like, don't make it Mission Impossible, or anything. Now, yes, obviously, you want to be challenged–that is true. You just want to be successful, as well. Because most people, you know, don't start off skiing down a slope with an angle somewhere between a ladder and a wall. It's why there's a Bunny Hill.
So understand that fitness isn't a competition. And it doesn't matter where anybody else is, or what some chiseled, shirtless, hot-accented guy on Youtube is doing. Great for the guy with the hot accent. I like it, too. But what works for him isn't what necessarily is going to work for you. You have to start where YOU are at, not Mr. Hot Accent, or Mrs. My Boobs Are Huge, So I Must Know What I'm Talking About When I Tell You to Do This or That Otherwise Completely Arbitrary Exercise. (Believe it or not, boob size in no way correlates with fitness knowledge. I've looked into this; studied it thoroughly, and is why I follow so many of these specimens on Instagram: For science.)
I've been doing this for a long time, fitness and health, written books on it, given lectures over it, and am in the trenches everyday, working things out for myself and my clients. I've seen the trends and fads and gimmicks all come and go, like so many wisps in the wind. But principles are unyielding. So understand the tenets, and adhere to a set of values, rather than rules ever so rigid and annoying and a drain on all your enjoyment in life. Because only then will you be equipped with the tools you need in order to have sustainability AND success; a plan for the rest of your life.
Strong ON!
– Pat
PS – You might also enjoy my Inner Circle, because you still need a plan, right?