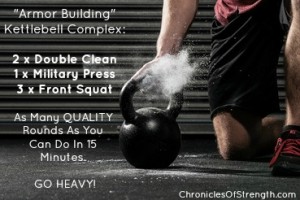 Well shit, I'd have to say Armor Building by Dan John.
Here's why.
Most kettlebell complexes are marvelous for metabolic work, wonderful for blasting fat, and even moderately effective for acquiring some muscle. But very few are really all that terrible useful for building raw, blistering strength.
But armor building is.
2 double cleans, 1 double military press, 3 front squats. That's it right there.
This complex let's you go hard and HEAVY.
I recommend using the heaviest weight you can press for 1-3 reps, to really get the most out of it.
What's the best way to train it?
Oh, you're asking me? Well, personally, I do them for time—just not in an idiot manner.
Meaning, put 15-20 minutes on the clock, and accumulate as many HIGH QUALITY sets as you can with GOOD FORM in the allotted time.
This is just one way Armor Building is worked into my new Becoming Minimalist Strength Program. I really excited about this program; by far my best minimalist strength and fat-loss program yet. And hey, if you want an "early release", I'll even give you a "backdoor" link to get it, if you act quick.
Here's all you gotta do:
1. CLICK HERE and join the Inner Circle (try it out for a month, it's $20, cancel anytime).
2. After you do that: Email me at PatFlynn@ChroniclesOfStrength.com with the subject line of "Becoming Minimalist", and it's yours. If you email me your #1 most SPECIFIC goal for the year I'll even throw in my new One Meal a Day Program for you, too. Always happy to reward action takers.
Let me know if you have any questions in the comments. Here to help.
– Pat