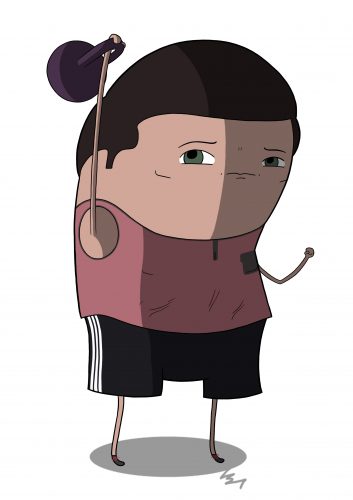 If you want to know how to workout at home then read this post. If you don't have a home then we can talk about that too and I may have an idea. I actually did know a guy once who didn't have a home and then one day he was gone. I think the government got him.
So this post is about ways you can workout at home with no equipment or maybe just a little equipment. There is no point in talking about working out at home with a lot of equipment because then how is that any different than going to the gym? Silly dingus. Now let's begin.
The easiest way to workout at home is with your own bodyweight. Intern Alyssa, who is my intern, talks a lot about bodyweight workouts in her weekly post every Wednesday. She calls them "Sweatys". You can see one of them HERE.
Another thing I like doing is as many sets of an exercise as you can throughout the day. Push ups and pull ups and squats and lunges, for example. You can do one exercise on each day of the week and what you want is to see how many you can do. If you are really strong and tough you should be able to do at least a hundred reps of each, even the pull ups. Either way doing sets of exercise throughout the day builds muscle and keeps the metabolism going.
Kettlebell complexes are another good idea because you only need one kettlebell to do them. Here are some examples.
Obviously I am not working out at home in these videos unless my home is one of those dumpsters which that would be fine except I would have to kick out all the people who already live there.
OK so putting it all together, then, here is a simple, 3-4x/week program.
Push ups + pull ups x 10 minutes, alternating.
Bodyweight squats + bridging X 10 minutes, alternating.
Kettlebell complex of some kind.
Stretch. 
Strong ON!
– Pat
PS – You might also enjoy my Inner Circle because the workouts are better there than what you got in this post.