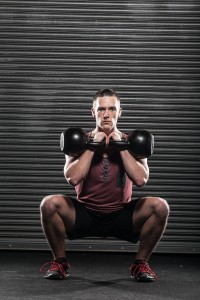 The most important element, and one largely and foolishly neglected, in any given strength program, is safety.
What good is a triple bodyweight deadlift with a double herniation?
Not very.
Strength and safety do not compete, and are only at odds if you put them at odds. Otherwise, where you are the safest, you are the strongest.
The order of importance, in the strength equation, is this:
1. Quality
2. Load
3. Sets
4. Reps
So…
Cut reps before sets, cut sets before load, and cut load before quality.
Observe it well.
– = +
Question: What has been the worst mistake you've ever made in your training? What did you learn from it?
Mine was ignoring my own advice. I went for "just one more rep", and busted my back on the deadlift. Pain is a great teacher, as they say, but nobody wants to go to his class…
PS – The Becoming Minimalist Master Class is full. So the case study group can no longer be participated in, but if you'd still like the the first phase of the program, then CLICK HERE. It will be sent to all Inner Circle members on January 1st (you must register before then to get it).