7 Reason to Workout in a Fasted State
1.

Increases Lipolysis – BURN THE FAT BABY!
A fasted body loves to eat
body fat almost as much Robocop loves his baby food.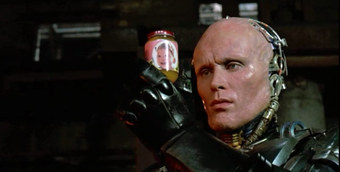 2.

Increases neurogenesis (the growth of new brain cells)
Whether or not fasting will improve your SATs is still up in the air. However, if you wish to ward off the odds of memory loss and cognitive impairment later in life—the combination of fasting is a good place to start.

3. Increases the effects of mTOR (our primary muscle/strength building gene)
mTOR (mammalian target of rapamycin) regulates cell growth and protein synthesis (the process in which cells manufacture proteins) . mTOR behaves like a spring. If we wish to increase its effectiveness (build more strength and muscle with less resources), it helps to first temporarily suppress it. The potential energy of a spring is greatest when it is maximally compressed. The same can be said (somewhat) about mTOR.
Fasting and exercise both potentiate mTOR by first suppressing it. For greatest effect, combine fasting and exercise.

4. Flushes out oxidized muscle tissue

Ensures that our muscle stays young and vigorous!
5. Increases growth hormone surge
This helps to explain why fasting burns body fat, yet spares muscle tissue—especially in comparison to other calorically restrictive diets.
6. Increases energy

The release of adrenaline (epinephrine and norepinephrine) increases in a fasted state. It's like a free cup of coffee, or two.
7. Improves mental focus and alertness

Food slows you down. Humans thrive off of hunger; it's the ultimate motivator!

It Comes Down To This…

Indeed you may initially lose a marginal amount of strength and muscle mass training in a fasted state (I did) –that is not up for contention. All I'm saying is that the benefits far outweigh the drawbacks.
– Pat Flynn
One Hungry Dude
PS – Please leave any questions you have in the comment section.
PPS – Oh, and if you enjoyed this post – please "like" and share it with your friends.

PPPS – Check out Fitter, Happier, More Productive!

Kettlebell Workout of the Week: Episode 11 –
"The Double Clean and Press On The Minute, Every Minute, For Ten Minutes Workout"