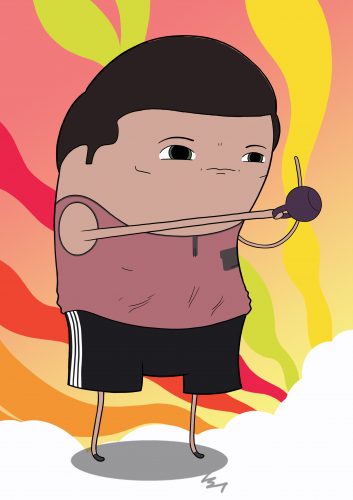 Well me, Som and Alyssa did another one of those Facebook Lives and talked about goal setting and whatnot and after which we took everyone through a quick, little kettlebell workout/finisher.
A finisher is a workout at the end of a workout, I guess is the way to explain it. You do a finisher because it leaves you feeling nice and sweaty and also because it may burn some extra amount of calories.
My strength routine before was this:
A1: Weighted Dips – 4 sets x 5 reps @ "the beast" (106lb kettlebell).
A2: Bulgarian Split Squats + Jump Squats – 4 sets x 5 reps @ 2 x 32kg + 10 jump bodyweight squats immediately after.
B1: Single Arm Bent Over Row – 3 sets x 12 reps @ 36kg.
B2: Double Clean – 3 sets x 12 reps @ 2 x 28kg.
C1: Pull Ups – 3 sets x max reps
Goal Setting and Kettlebell Finisher
5 x one arm swing
5 x snatch
5 x press (or push press)
5 x single arm squat (or reverse lunge)
Men use 16 – 24kg; women 8 – 16kg. AMRAP in 10 minutes.
Strong ON!
– Pat
PS – If you like finishers you might also enjoy my Inner Circle. There are so many in there!
PPS – I am also doing a giveaway of my book and Dragon Gym T-shirt. To enter just share & comment on the original Facebook Live video HERE.