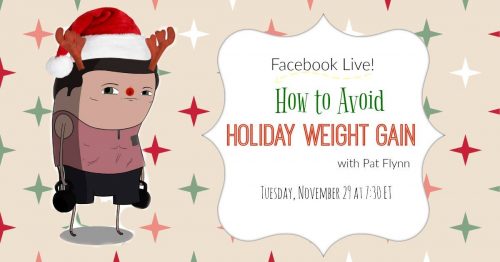 So in this talk I go on about some ways to use intermittent fasting to avoid the holiday weight gain, which is good. It's a nice and pretty interesting talk but not my best talk. My best talk was in Austin, TX and wasn't recorded. I will try and do a better one someday.
Here's what I discussed:
** How to use intermittent fasting for avoiding holiday weight gain.
** My best tips for curing insomnia/improving sleep.
** The best times to workout while fasting.
** Ideas for controlling hunger and cravings
** And more!
Enjoy!
Here are the show notes/links:
==> 5 Quick Workouts for Avoiding Holiday Weight Gain
==> Rapid Fat Loss with Dr. Spencer Nadolsky
==> My Christmas List (in case anyone's interested)
Reminder: Next FB Live is Friday @ 2pm with Somnath Sikdar. We're doing a follow along workout. Join us!
Strong ON!
– Pat
PS – You may also enjoy my Inner Circle because I will give you my best strength and fat loss workouts every week!