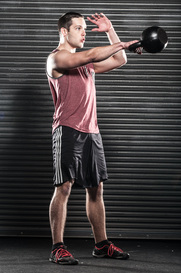 It has been in speculation, I gather, that The Great Destroyer has been dethroned as the long-standing King of Tyre, and replaced by a new Apollyon; an ever-more haunting and hellacious nightmare.
The BeastMother, as she is known, and like any other form of hellish miscreant, is a charming deceiver. She is inviting, and lures you in—a single kettlebell complex, how bad can it be?—a true snare of the devil, let me tell you. But then you are caught. And then does she torture you, and then does she butcher you, and then does she explode your pieces up into the air in chunks—that is really the best way to describe it. One fellow sent me an email to report whole of the thing to be as evenly painful, inescapable, and ludicrous as marriage. But I have no experience on that, and cannot say whether it is true or not.
But still, I invite you to try.
The Beast Mother:
One Arm Swing
Clean and Press
Snatch
Front Squat
How To Do It:
Start with two reps of each, on both sides. Then, add two reps, and repeat. Continue adding reps by twos until you peak at 8—then descend in the same manner. Run as many quality rounds as you can in 15 minutes on your metabolic/energy days.
What Weight to Use:
For the most part, males use a 20kg, females use a 12kg.
PS – The BeastMother is just one of 3 featured metabolic routines in The Metabolic Reset (a full 30-day minimalist body-transformation program).
Here's a "backdoor" way to get The Metabolic Reset, to help you kick ass in the new year.
1. Click Here and subscribe to the Inner Circle ($20/month, cancel anytime).
2. After that email me at PatFlynn@ChroniclesOfStrength with the subject line of Met Reset, and I'll send it your way.