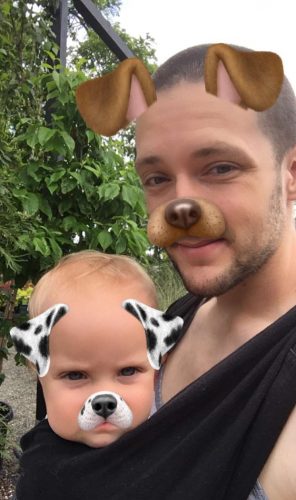 Many people write all these wonderful things about having kids, of which there are many, no doubt, but I think it would only be fine and fair to write some of the not so wonderful things for once, and from the dad's perspective.
Now I can only share what I know from my kids who are two and a half and ten months old; I don't have a lot of experience, and am not an expert. But here we go.
At first, kids are hard but not as hard as they will be. They cry and moan and are a struggle to get to sleep but at least they can't move – so that's something. They're kind of boring, too, at first, and when they're not boring they're loud. So you have to walk them a lot. You have to feed them a lot. You have to change their diaper a lot. It's like having an eight pound Furby you can't take the batteries out of.
But it's when they do start to move you had better watch it. Because they are always trying to get into things they shouldn't and have very poor reasoning. Someone once told me that's because they have the same size prefrontal cortex as a barn owl. I believe it.
I once saw Meara climb a set of stairs with no idea how to get down. Roan did that once, too, but he did have an idea how to get down. Only, it wasn't the way I would have done it, nor the way I have seen most other people do it. Rather, he tried acrobatics.
But how someone wants to get down the stairs, I believe, is a personal matter, and should be a decision left to the individual and whatever their current mode of taste for transportation determines.
And you know what else? Sometimes they both cry at the same time and it makes you wonder how much it would actually hurt if you brought a live toaster into the bathtub with you, kind of like how Bill Murray did in Groundhog Day, if you remember that movie.
Everyone said it, and I never didn't believe them. But now I know. Kids is hard. But you love them and they know it, and any one who's ever been there knows it. And sometimes they love you, and sometimes they try to kill you.
And it's all fun and everyone laughs until one of them has the absolute shocking audacity to ask for a snack right as you clear away the dinner plate – the one they refused to eat anything off of – you know, that dinner plate. And then tempers flare and there's shouting and everyone hates everything, and somehow, suddenly, I'm the bad guy, like I was the one who didn't eat my dinner.
But then you see them asleep and you think my God. Can't they always be like this? Can't we just cover them in carbonite? Or something. But then you realize that won't do because you'd miss their antics, as annoying as they so often are. Their smile, their laugh, their high pitched pterodactyl noises, all of which makes them who they are and gives you a glimpse into who they are going to become – a dinosaur.
I had always thought I would have kids in my mid thirties. But as it happened my early twenties is when I would actually have kids. I can't say looking back, even if I could, I would have gone the other way. My kids have brought a joy to my life that was never there, a greater meaning to my being on this odd little planet, where people don't always use their turn signal and politicians say whatever the hell they are thinking.
But it's because I love my kids that I want to be a more humane and loving, and much kinder and gentler person. It's because I love my kids that I work harder now than I ever have. And it's because I love my kids that – this is getting sappy; and I said I wouldn't get sappy – but it's because I love my kids that I want my life to mean something, so when I'm an angel in heaven, a corn snake, or whatever it is you become when you die, for them to think their dad was more than just OK, and to at least know that he tried.
– Pat