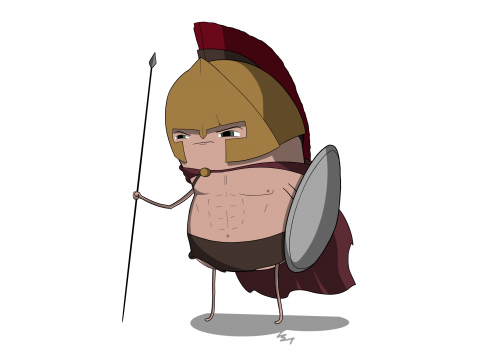 We all want to eat food that is good for us and not eat food that is bad. This is hard to do sometimes because people become very much fond of food and become little piggies and they munch, munch, munch. A question I get a lot is what should a person eat if they want to get rid of body fat. My answer they should not eat any food. Eating food isn't what gets rid of body fat. Eating less food is what gets rid of body fat. But that isn't a very helpful answer.
I did a Facebook Live not long ago with my friend Dr. Spencer who's a doctor, and we talked about how you can lose fat on any number of frameworks. One framework is fasting. Another is the Mediterranean Diet. Or even Paleo. Many people have had success on various frameworks and what we've learned is pretty much any diet can work. Isn't that amazing? Why yes it is amazing, but actually it's not. The reason any diet can work is because the same principles are always adhered to–calorie control, and other things.
Fasting works because it gets your calories lower and is a pretty good way of doing that. Or if people lose weight on Paleo it's not because oats are bad for you it's because they cut out a big chunk of calories by not eating grains or processed carbs anymore. Same with the Mediterranean Diet, or Atkins. Atkins I hear was a generally pleasant man who also had a neck and forehead.
Anyway I have clients who lose weight on all kinds of frameworks. I have one client this month who she lost over 17lbs and was actually very high on carbs. I had another who lost 12lbs about and he was very low on carbs. Relatively they both did a job worthy of four golden stars and they both enjoyed their own unique approach I designed for them.  So what makes me a better coach than any other coach in the world and I mean this sincerely is that I am not dogmatic except that I care only about one thing, which is getting  results. I don't care what approach we use so long as it works FOR THAT PERSON.
When it comes to what to eat and what not to I would say avoid sugar except for what you find in vegetables and some fruit, don't drink an abundance of alcohol like dad, and have a general idea of how you respond to various frameworks. Some people notice that on low carb they don't have as bad of cravings. For others it's the opposite. Self-experimentation is key.
Strong ON!
– Pat
PS – If you would like to have me as your online coach, so I can help you find a successful, nutritional framework for losing weight and keeping it off until the day you are dismissed from existence, we can talk about that if you email me. (PatFlynn@ChroniclesOfStrength.com.) Just know I am very expensive and will ask you to work hard.
PPS – You might also enjoy my Inner Circle, because coaching is expensive and so this is the next best thing.