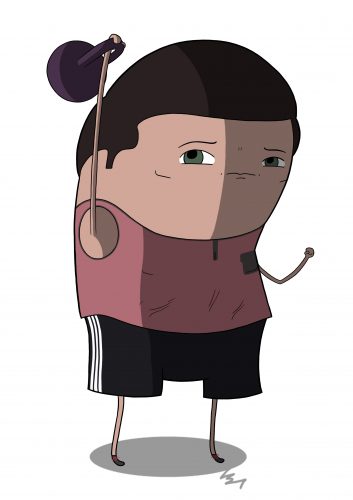 Alright well let's talk about why kettlebells are good. This is a question I get every so often is someone will ask, Pat, they'll say, why is it that kettlebells are good? Then what I tell them is what I'm about to tell you. So go ahead and pull up something to drink and we'll have a discussion about it.
The first reason kettlebells are good is because they are convenient. You can get a lot done with even one kettlebell. You can strength train with it and you can power train with it and you can stretch with it too. You can also lose fat with it. This is of course assuming that you aren't eating like some atrocious barbarian, of some kind.
The second reason kettlebells are good is because of complexes. A complex is where you string exercises together and do them back to back with no rest. Here is an example.
If you have ever read any of my stuff you know I talk a lot about complexes and how nice they are. There is no better way of working out if you are trying to have a lot of sex appeal, at least that I know.
Kettlebells are like a gym with a handle on it. I am not the first person to ever say that but because I am more popular than the person who said it originally a lot of people think that I made it up, which I'm fine with.
People will also sometimes ask, which what they'll say is, how do kettlebells compare to barbells or dumbbells? I will then enlighten them in the following way and say that kettlebells are better for metabolic work like complexes and barbells are better for strength once you reach a certain point, especially for the lower body. But most people can get all the strength they need from a set of kettlebells. Dumbbells are OK.
Alright well that's why kettlebells are good. Please share this post so people know.
Strong ON!
– Pat
PS – You might also enjoy my Inner Circle because kettlebells are good and that is proven now.