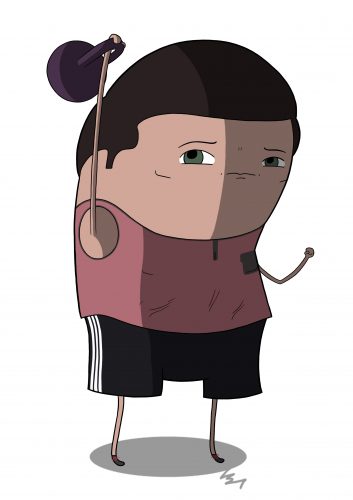 Change is hard. Growth hurts. Moving is scary. But without catalyst, we die right where we are. We become like mushrooms. We grow gray and sick and old, with poop up to our chins.
I've gone through a lot of change this year, and most of it I was fighting off with everything I had. But looking back, I really just couldn't see what was happening, and how all that terrible stuff could somehow turn out to be nourishing for me. Ultimately, I was forced to take actions I had been putting off, and finish projects that have been sitting on the shelf for months and months.
The catalyst for change hardly comes in a form of a love letter. Humans are stubborn, and we don't much respond to overly pleasant requests. Even if an angel came down from heaven and asked us (very politely) to get in better shape, less we want to become an angel a little bit quicker ourselves, we'd think that angel was amazing and spectacular, and we'd tell every one of our friends about our extraordinary experience,restore lost friendships so we could tell them as well, and get the satisfaction from it, and maybe even write a book called My Amazing Encounter with One of Heaven's Angels, but most of us would not take the angel's advice; most of us would forget what in the hell he even told us.
We need to be shaken at our core. We need that sudden painful wake up call. Hopefully this doesn't mean a death in the family or the death of a close friend. I really hope it doesn't mean that, especially for you. But sometimes it does mean that. Because these are the types of terrible things that get you/me/us to change. So is having a heart attack. So is looking at yourself in the mirror in such disgust, wondering how you've let yourself live this way for so many years. You may even have a breakdown, as I have had my breakdown, once–maybe twice. But it's these breakdowns, and moments of what seem to be so far beyond repair, that lead you to totally turning your life around.
I don't know if you've come up against your catalyst, yet. Maybe reading this post is that catalyst. For some, it may be. But what I know, is if you are against that catalyst, I can help you come into that change.
I am here to help.
– Pat
PS – I invite you, if you haven't already, to have a look at my fall online group coaching program, HERE. This might be the thing you need.