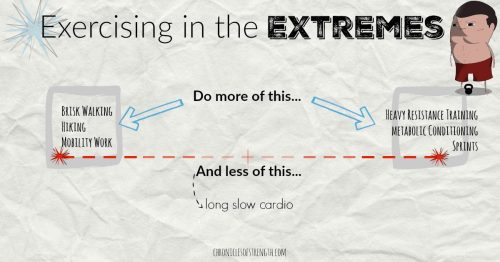 I (so far as know) came up with the term "exercising in the extremes" to explain how spending more time on each end of the intensity spectrum will get you better results than being mostly in the middle. What I mean is you should rather spend your time doing very intense exercise and not at all intense exercise rather than doing moderately intense exercise, is kind of what I'm saying.
In other words, Brisk Walking + Strength Training > "Long, Slow Cardio" (jogging, cycling, etc). This is true and especially it is true for fat loss.
Now I am not someone who is against cardio, if that is what you are wondering. Some people wonder this, they think, hmm, that Pat guy, I wonder if he is against cardio.
I am not against cardio.
But I do think there are better options–more efficient options, and also more effective options–than say, going for a jog, if your goal is to lose body fat.
So let me explain how to structure an exercise program that really works.
Here Are the Cliff Notes: 
** If you want to lose weight, spend most (but not all) of your time on either end of the intensity spectrum.
** On the far right, you have HIGH intensity exercise: Heavy resistance training, metabolic conditioning, sprints, etc. Stuff that is either very heavy or very sweaty.
** On the far left, you have LOW intensity exercise: Brisk walking, hiking, mobility work, or any other type of movement you could do while talking to someone.
** Always do your metabolic conditioning/cardio AFTER strength training.
** A "Super Stack" would be something like: Strength Training (15 – 40 minutes), Metabolic Conditioning (5 – 15 minutes), Brisk Walking (20 – 60 minutes). 
** Conventional Cardio is still fine (don't get me wrong, it's "chronic cardio" that's the problem), and can even be helpful, but should not be the #1 thing you do if your goal is to have better body composition. 2 – 3x/week is plenty. 
…
Any questions, drop a comment!
Strong ON!
– Pat
PS – You might also enjoy my new 21 Day Extreme Kettlebell Challenge, because you will discover…
How to build endurance WITHOUT running long distances.
How to gain strength and flexibility in the SAME workout (so you don't need separate routines for each.)
My BEST and NEWEST kettlebell complexes for burning maximum calories in minimum time.